Is someone sitting on the Twitter handle you want? Is it someone with 0 followers who registered in 2008 and never tweeted once? Yeah, that was me, too. At least, it was yesterday.(UPDATE 7/6/12, 10:50 a.m.: Twitter has begun enforcing its impersonation policy more strictly. Details below.) If they're impersonating you or your brand, you can win it back from them.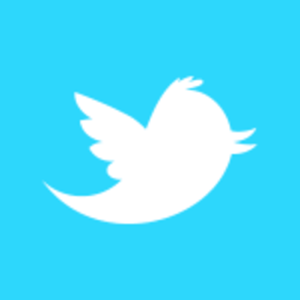 The trick is to file an impersonation claim. That's the only one Twitter responds to in a timely fashion. This means you have to make a credible case that you or your brand is being impersonated, and the account has to have violated Twitter's inactive account policy. But if you have your ducks in a row, you can have that account in your hands in under a week. Here's how.
Step 1: Gather Evidence of Impersonation
UPDATE 7/6/12, 10:50 a.m.:When this article was originally published, it was easier to liberate an account for a name you controlled, even if there was no clear evidence of impersonation. If it was a blank account that was just squatting on your name, this technique could still work. But Twitter recently began rejecting impersonation claims submitted without documented evidence of actual impersonation. Here's the message you'll get from Twitter if you don't provide hard evidence of impersonation: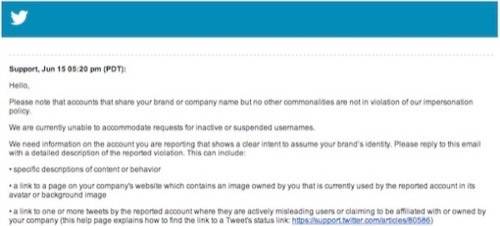 So before you file an impersonation claim with Twitter, make sure you have at least some of the following:
Specific descriptions of content or behavior impersonating you
A link to a page on your website containing an image owned by you that the impersonating account is using
A link to one or more tweets in which this account is actively misleading people by claiming to be you
Step 2: Own A Website and Email Address That Matches The Twitter Account You Want
It's much easier to get a domain name than a trademark, and you need to establish that the name or brand you're after is indeed yours. You're going to need a website and email address with the same name to give you a credible claim.
For example, the Twitter handle I wanted was @emotikon, which is the name of my musical projects. I own emotikon.co, so I used an email address from that domain throughout this process.
Step 2.5: If you already have a Twitter account with an alternative name, and you just want to change its name to the one you want, skip step 2.
Step 3: Register A Dummy Twitter Account With That Address
Sign up for a new Twitter account using the email address from step 1. The handle can be anything you want. When Twitter liberates your account, they're going to merge it over to the dummy account, so you're saving a step by giving them an existing account to use. I called mine @emotikonTEMP.
Step 4: Report The Account for Impersonation

The form you need is at support.twitter.com/forms/impersonation. Choose the bottom option, "I am being impersonated." When you click that button, more options will appear. Choose the one that applies.

Once you've chosen the right option, a contact form will appear. Fill that out with all the relevant information and be sure to use the email address that clearly establishes your claim to the name. The optional Twitter username is the one from step 1.5 or 2. It says it's optional, but it will save you a step.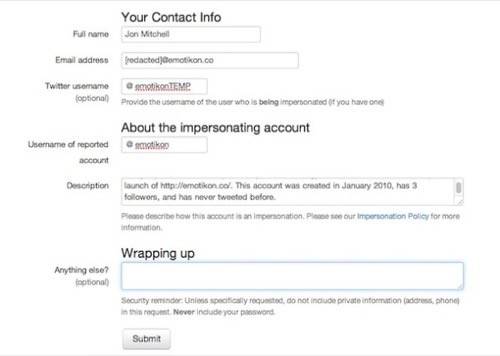 Step 5: Wait A Little While
After you submit, you'll get an auto-reply right away. Before too long, a human on the Twitter Trust and Safety team will follow up with you if there are any problems with your submission. If everything is in order, after a perfectly reasonable amount of time, you'll get the glorious email.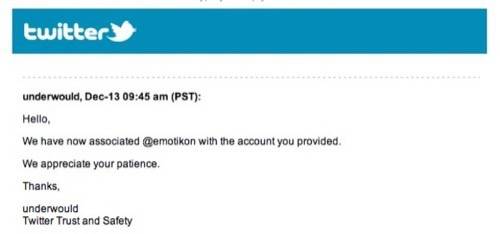 After that, the account is yours! When you log in to the account you listed in step 3, it will have the name you've been waiting for.