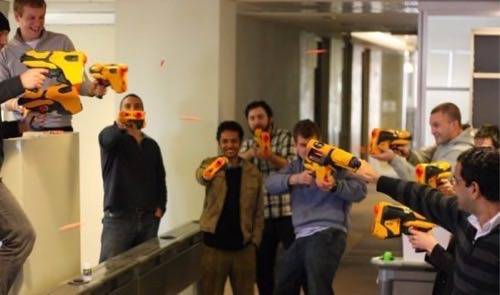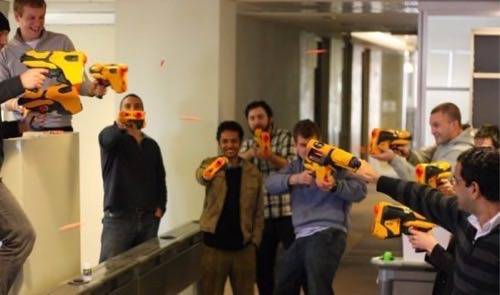 Growing up on the coast of Maine we would do all sorts of things to pass the time. In back of our house was a small stream with steep banks surrounded by a forest that ran from the tidal sections of the Royal River to the Cousins River. We called it The Creek. By the time we were about 10 years old or so, The Creek had become an epic battle ground for the neighborhood kids, would-be commandos yielding sophisticated weapons chasing each other through the mud and sticks. It would be my introduction to the Great Nerf Wars.
I had mostly forgotten about the simple joys of Nerf guns. That was until I started covering technology and spending time at the offices of local startups. There is a theme that permeates the startup ecosystem from coast-to-coast – the Nerf gun is king. We decided to take a deep look into this phenomenon to answer the basic question: Why are startups obsessed with Nerf? So, we went to go pick a fight.
The destination: TechStars Boston and DogPatch Labs at One Cambridge Center in the heart of MIT. The incubator, I had heard, boasted a healthy artillery of Nerf weapons. It is also the best place in Boston to find a bunch of stressed out startups in one place looking to blow off some steam.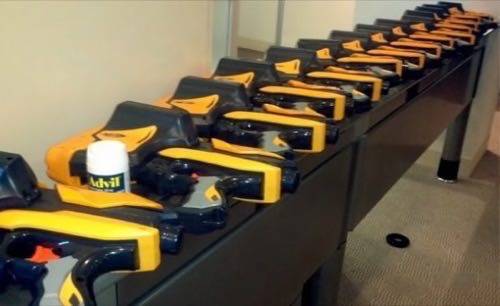 Note the Advil.
There were a variety of answers to the question of why startups like Nerf.
"So we get to take up all of our pent up aggression on each other without killing each other," said one of the co-founders of Kinvey, a mobile cloud "backend-as-a-service" startup that just partnered with Urban Airship.
"We were a bunch of geeks growing up and because our mother's wouldn't let us play with them when we were younger," said the Ginger.io team, a startup working on behavioral health analytics through smartphone data.
"Stress release, you can hit someone and not hurt them," said team members of PromoBoxx, a retail promotion platform startup.
"We all grew up with Mom saying no ball in the house," added a Kinvey team member. "Now we have no Mom."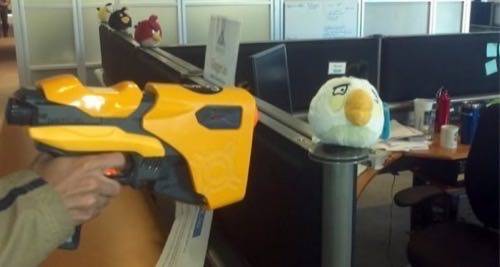 The Angry Bird is going to get it!
Less than a mile away lay the offices of SCVNGR, where founder Seth Priebatsch describes himself as "chief ninja and Nerf artillery acquirer." Priebatsch said he once Nerf ambushed venture capitalist Peter Bell from Highland Capital with his entire team.
That is an interesting way to go about getting funding.
"Startups like Nerf because it keeps productivity high. Not because it's fun (though they are) but because they're effective," Priebatsch said. "Meeting running too long? Nerf gun to the face. Fill out expense reports? Nerf gun to the face. Build a great product? OK… Nerf guns down. A copious supply of Nerf guns are the only thing standing between startup culture and sigma-six certified corporatocracy."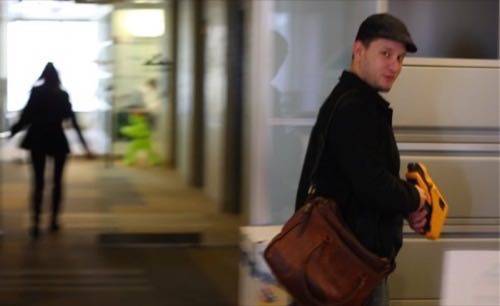 Am I stalking my prey, or trying to get out of the camera frame? (OK, I was trying to get out of the camera frame.)
Back at TechStars, the weapons were assembled. TechStars and DogPatch do not have a variety of artillery. Rather, they lots of the same gun (pictured above) and they can be found in every nook and cranny on the sixth floor of One Cambridge Center.
Word was spread that a Nerf battle was to take place. It did not take long for the forces to assemble. They came willingly and quickly. It was a surprise how easy it was to pull more than a dozen people away from their desks for a Nerf fight at a moments notice.
Carnage ensued.
At the end, when the stricken went back to their desks and the victors picked up the mass of little foam darts, a valuable lesson was clear. Startups are often made up of young, brilliant geeks that face enormous pressure to create companies out of nothing. They have clients, venture capitalists and the media to answer to on a daily basis. Idiosyncrasies evolve. Having Nerf guns around is a quirk that helps relieve the tension, causes a chuckle and ultimately does not damage. It is the same reason you see Ping Pong tables or dart boards.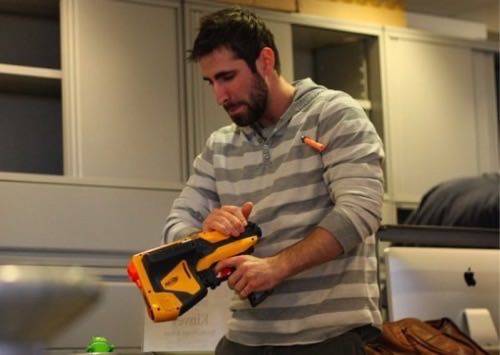 Nerf may predominate, but there are a ton of other ways that startups blow of steam. How does your team do it? Let us know in the comments.