The next version of Microsoft's still dominant PC operating system, Windows 8, "represents an incredible opportunity to bring the benefits of the personal cloud to billions of PC users." That's according to a blog post written by the Group Program Managers for SkyDrive, Microsoft's consumer cloud product.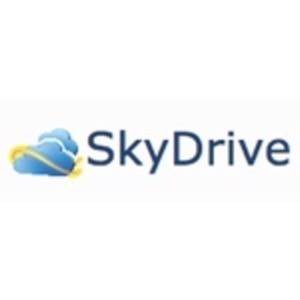 When it was launched back in August 2007, SkyDrive was described as "a personal 'harddrive' on the internet". It's now a major player in the consumer cloud market, competing with other big guns like Apple's iCloud and Amazon Cloud Drive. Also SkyDrive competes with innovative startups like Dropbox and SugarSync. The Microsoft blog post presents some statistics about the consumer cloud market, along with big claims for its future.
To help define the market, Microsoft's Omar Shahine and Mike Torres outlined three distinct categories of personal cloud solutions:
File clouds; using the traditional file and folder structure. Examples: SkyDrive, Dropbox
Device clouds; "A device-centric view of cloud storage "hides" the folders from you." Example: iCloud
App clouds; "they fully embrace the cloud [and] can enable new ways to collaborate, organize, and share." Examples: Google Docs, Evernote
That's a good way to break down the market, although you could argue that the first two categories will eventually converge.
According to Microsoft, mainstream users are "just starting" to use personal cloud products. Its own study, based on "an anonymous panel of MS customers," has 22% of people storing their photos online and 1% storing documents online. One suspects the figures would have been significantly higher if the panel had been comprised of Google Docs users. Microsoft customers are more likely than most to be still reliant on desktop software. Even so, I'm rather surprised at how low the online document storage figure is.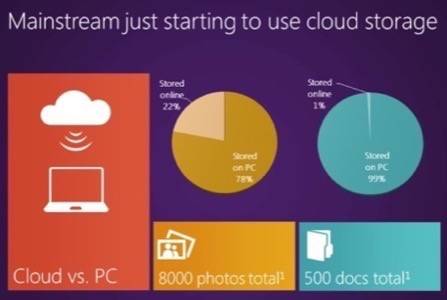 Microsoft also polled three groups of what it calls power users: college students, gadget fans, and photo enthusiasts. One statistic mentioned in the blog post is that "over 70% of Dropbox users also use Google Docs." Microsoft claims that "using these different tools can lead to formatting loss, extra steps and versions, or just confusion, since each tool has its own limitations." Which apparently is where Microsoft's SkyDrive comes in: presto, it solves all of that confusion. Google would argue that users should just use Google Docs for all of their documentation needs, which would also solve the confusion.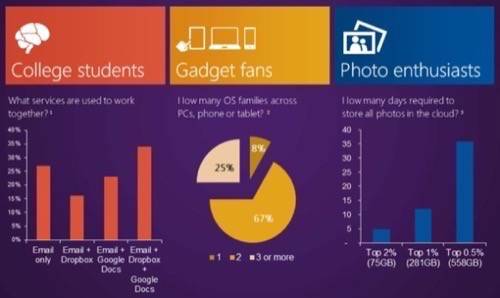 Frankly none of the above study results are very convincing, given that Microsoft was polling Microsoft users. The statistics that I was impressed by were SkyDrive's own usage numbers:
How many people are storing content on SkyDrive every month – 17M (October 2011)
How much content are they uploading and sharing every month – 360M files (October 2011)
How many devices connect to SkyDrive every month – 5M devices (October 2011)
How Does SkyDrive Compare to Other Offerings?
SkyDrive offers 25GB of free personal storage, with a limit of 100MB per individual file. That's a lot more storage than iCloud, which only offers 5GB of free storage. However the iCloud free storage limit doesn't include your photos or purchased music, apps, books, and TV shows.
So a big benefit of SkyDrive is the generous amount of free storage. However, as with many Microsoft online products, it's not a complete consumer cloud solution. There is also something called Windows Live Mesh, which syncs files between devices. The two products, SkyDrive and Windows Live Mesh, exist side by side. That's confusing for the consumer.
The bottom line though is that if you use mostly Windows devices (e.g. PC, tablet, smartphone), then SkyDrive is probably going to be a great solution for you. It's already being integrated into Windows Phone. If you use mostly Apple products, then iCloud is probably your best bet.
Or you can use an OS-independent service like Amazon Cloud Drive or Dropbox, products which often offer more functionality. As RWW Channels Editor David Strom wrote in a product comparison mid-year, neither iCloud or SkyDrive "is anywhere near what a cloud storage provider such as Box.net or Dropbox.com can provide in terms of features."
It's unclear what impact Windows 8 will end up having on the evolution of SkyDrive, but it's significant that Microsoft is so bullish on the consumer cloud. After all, Windows is the epitome of the desktop computing paradigm. If you've used SkyDrive, let us know your thoughts in the comments.