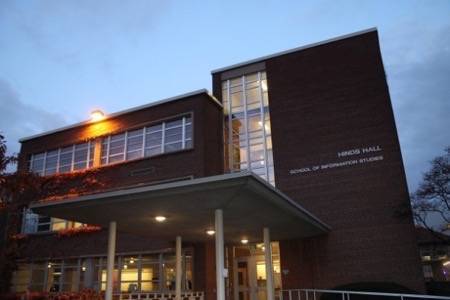 Hinds Hall, Syracuse University campus, 2:20 pm ET November 11 – They called themselves "Rubin's Army" after their honorary commandant, Prof. Jeffrey Rubin, but after a 21-hour campaign they looked like they had just marched through Normandy Beach. They had four minutes to pitch a concept for enhancing Major League Baseball's MLB.com Web site. The concept was not really 21 hours old, and they didn't want anyone to know it.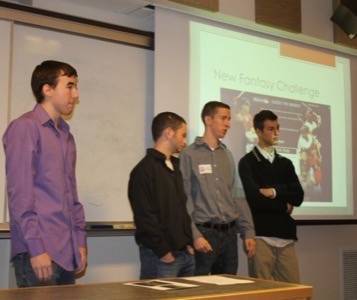 "We want to take the casual fan who maybe watches one game per month or one game per week, and make him into more of a diehard fan," started Max (third from the left above). Step one of the Army's plan is to give incoming users an option to watch the first inning of any MLB game for free.
"What this does is allows you to… It really grabs their attention, so you can really force them to not have to pay for the subscription, because they're not gonna want to stop watching after one inning," murmured Sean (left). "It's a pretty simple marketing strategy, really."
"What happens if it's a really boring first inning?" asked Mark Hoffman, the lead judge and director of UI development for MLB.com. Danny responded as if he were being challenged into an argument: There are 162 games per year, surely there has to be one that has an interesting first inning!
They tossed in a number of other elements, such as a trivia box that pops up two to three times per game, and a live chat box "that allows you to quickly chat with other people watching the game." These were the appetizers for the Army's main course, which was a "fantasy challenge" where viewers picked an inning of any game in advance where they think someone, at some time, will score a home run. "We want MLB.com to be more interactive, rather than just watch games. We want them to do stuff," concluded Max. The moral of this presentation was clearly, "Know Your Audience."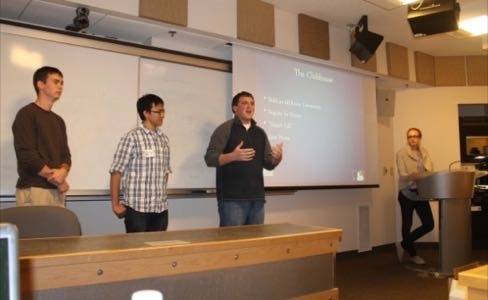 Never had night become day any faster than when the Saltine Warriors took the podium. Terence, the team's resident developer, still looked bright and bubbly as though he'd just had eight hours sleep instead of eight minutes. (I asked Ariel, who designed the team's prototype, whether Terence is always this bubbly in person. She surprised me: "No, he's never like this! He's usually sulking in a corner," she said, then hunkered down like a turtle escaping into its own shell, "and he's like, 'Don't talk to me!'")
Rick took the lead, introducing a mobile app that encourages baseball fans to meet at participating sports bars and restaurants in person, and guides them there using tools like Foursquare even if they're from out of town. Once at the venue, the mobile app users would be given a "Talk Smack" channel for clubs to congregate and share messages in support of their home teams.
Ariel introduced one of the more unique ideas: a separate non-mobile app that's actually run by the participating venue. "We envisioned specific bars hosting teams," she explained. "So say you're a big Red Sox fan and you're at Chuck's; you could talk to the people at Lucy's who are all Yankees fans, and you could look at each other's stats and compete with one another. It's a good way to get people to interact not just with their fellow fans, but also with fans of the opposing teams."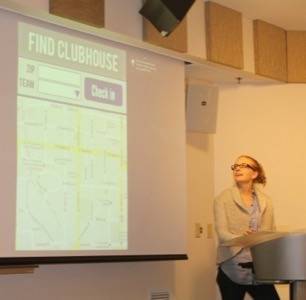 Josh Frost, a judge who also serves as MLB.com's product development manager, was particularly intrigued. Working in New York City, he pointed out, there are plenty of "tribes" that congregate around teams that aren't native to their own hometowns. This could enable Padres and Rangers fans, for instance, to find each other in the middle of Yankee country, and create an experience for themselves that brings everyone home together.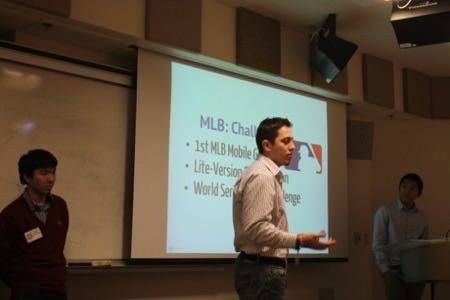 SRFA (which German, pronounced "Herr – mann," says stands for "Small Rural Farm Acre") made the biggest gamble of any group presenting today. As business majors, they quickly set upon the theory that they don't really need to develop anything that they can simply acquire.
"Almost every sports league in America has their own mobile application game, whether it be NFL, the NHL, or the NBA," explained German (center, above). "But it seems like one major sports league is missing. And I wonder who that is." He introduced the judges to Com2Us, a real-world South Korean games company whose Homerun Battle 2 title is already live on the Apple App Store, along with one other baseball-related title. German proposed simply buying both titles from Com2Us, then combine elements of both to produce something he called "MLB: Challenge." It would play in demo mode for free, and in downloadable form for $5.
To comply with the rules of the Syracuse competition, SRFA did propose an original element: a Facebook app that enables others to see who's playing MLB: Challenge and as what team. But certainly German was able to keep it under four minutes. Josh Frost did appreciate the team's moxy, but he wondered if there would be other ways the game would help the MLB franchise other than just direct revenue? German — who wouldn't be convinced to change course 12 hours ago, so why would he now — countered, what's better than revenue? If you're thinking like a marketer, he argued, why would anyone spend money to create a new competitor to already popular titles, when they could probably spend less simply to acquire them?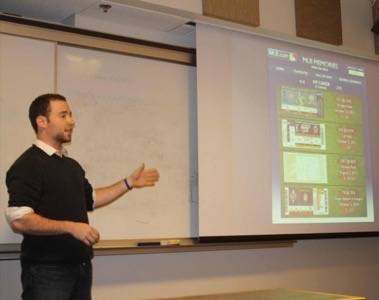 The Naturals succeeded in developing their product in stealth mode – meaning, we didn't see much of them until this afternoon. Andrew, a marketing major, took his cue as though he were emerging from the shadows, with a bright, colorful demeanor. He knew by instinct that if he spoke calmly but invitingly, his listeners would come in closer and focus on him. He didn't have to shout.
His team's premise was unique, perhaps the polar opposite of SRFA in that it required the creation of a massive platform as opposed to the acquisition of one. They started with a vision that didn't seem to make sense at first: Folks who go to Major League games tend to lose their ticket stubs. For that matter, they lose almost all the memorabilia that would otherwise help them remember where they were, who played, and what the final score was.
"So we create an app called 'MLB Memories' that we think solves this problem," states Andrew with a bell-like tenor. "The application captures your personal experiences in the game and then displays them on our Web site… as a digital sports scrapbook." The app would rely on users' abilities to collect digital photos or create digital scans, perhaps of their program covers or of old Polaroids. Certain of these scans can then be shared with the user base as a whole, creating a crowdsourced historical record of Major League Baseball.
It was here that Andrew found a frog in his throat – perhaps a 21-hour-old one. He fought through the rest of the presentation valiantly, pushing his voice past that little catch. Patrons of recent games, he said, could send smartphone photos through their local accounts, generating a content base of all-new history. Shared photos, both old and new, would then be selectable by browsing through a digital scrapbook that looks like a collection of saved ticket stubs – the real ones from the real games, replacing at least virtually the stubs that fans might have lost.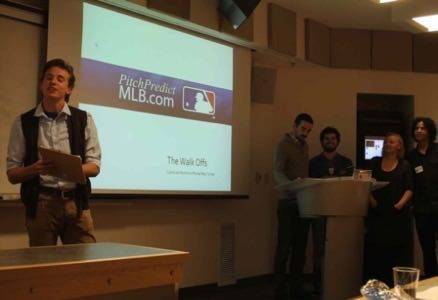 The Walkoffs – the team with the most senior/graduate students in the league – wanted to show off a fully working mobile Android app. That may have been too big a bite to take for one night, but they did have a fully working, animated desktop app with simulated live data from a ball game.
Devin had a weathered, professor-like rasp to his voice, and introduced his team almost as though they were his students. Which makes Devin a pretty slick actor, because all last night, it was Chris who was schooling Devin on JavaScript and jQuery.
"When you're watching a baseball game," he intonated as though he were reading to children at a public library, "there's usually 30 seconds on average between pitches, where the game is sort of at a standstill… and the pitcher is trying to decide what pitch he wants to throw, the man at the plate is trying to predict which pitch is going to come at him. The fan at home is in the mindset of that batter, and is wondering which pitch is going to come next."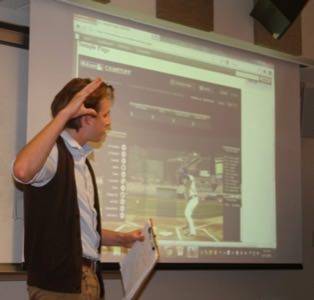 So the game within a game, called "Pitch Predict," would give viewers the opportunity to predict which type of pitch will be next, and where it would land within the strike zone. When the pitch actually does come in, the player earns points based on proximity and category. While it was the only demo to use live geometry and at least partial code from what would become the production app, the judges had some doubts as to the parts of the presentation that the Walkoffs didn't focus on. For example, what's the business model? Is this really a revenue generator? And is the player expected to keep guessing pitches, every pitch, for nine straight innings?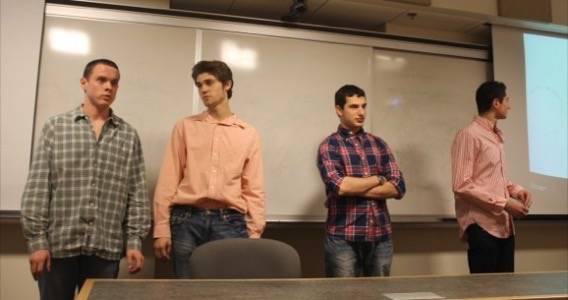 Team Winston took the podium like members of a real ball club. They had a stance like players facing the press after a tough game. They stood around for awhile, slump-shouldered as if tired from swinging and throwing. Neil (third from the left, above), with that chiseled face like a young Liam Neeson (and this time, also like Liam, awake), stared down his audience like the best-paid player in the league.
But there already had been a handful of games-within-a-game pitched to the judges this afternoon, and although they were batting last, they presented their model as though they'd entered the room as the only pros in a field of AA clubs. Ross – who could easily catch himself a job as pitchman for Rockstar Energy Drink – swung for the fences. But he wasn't looking where he was swinging.
"We are kinda capitalizing on the fact that the typical American baseball game is now one of the slower sports. We are living in a faster-paced world," Ross explained to three men whose lives and careers are built around the fast pace of baseball. "People want fast results, fast messaging, and fast sports. So in order to speed it up, we were thinking of enhancing the game and the user experience by allowing the user to guess and bet on what is going to happen."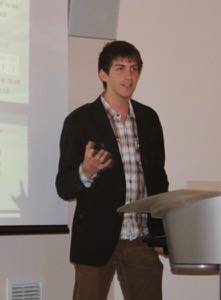 And then… well, let's just say he went there: "We live in a world where we're so distracted by our mobile devices – Twitter, Facebook, all this – and when you have a slow game like baseball, how do you keep everyone occupied and fixated? So the idea is to take the same technology that's distracting everyone, and port it into MLB.com"
Winston's Flash demo was constructed more around a multiple-choice control than a place-the-ball-in-the-strike-zone control. Their virtual currency system would broadcast players' "net worth" and their bets using Facebook's Open Graph API. And the business model was ad-based; in between bets, players would sit through 15-second ads. "The problem with ads," remarked MLB.com's Josh Frost, "is that ads aren't fun." He suggested that perhaps the ads could be converted into trivia questionsthe trivia questions could be expanded upon for better effect (correction supplied there by Ross himself – thank you, Ross) … but he heard no response. They weren't listening to new ideas at this point; they were too much in the zone.
3:30 pm ET – The third place winners of the MLB.com Challenge are The Walkoffs, with their innovative coding and the use of a real application, not just a Flash mockup. (As an extra added attraction, Reynaldo had showed the audience his efforts at making his Droid phone work like a Wii controller, by swinging it like a bat and listening it respond with a "crack!")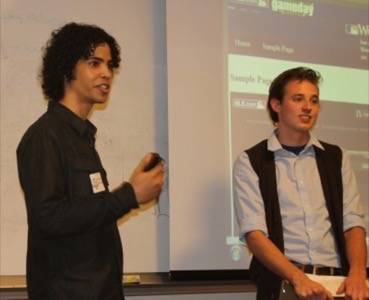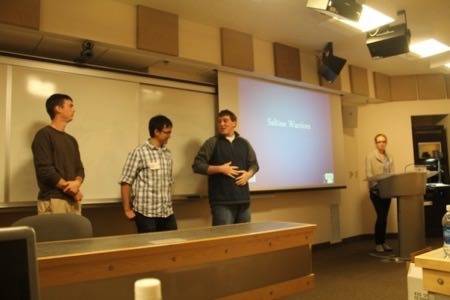 Second place goes to the mighty Saltine Warriors, who gave easily the most practical presentation of an app that could be done right now with available resources. Imagine, a social app that relies on people being social with each other!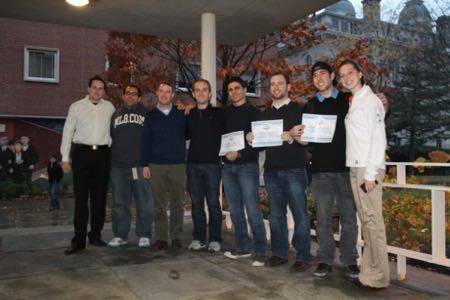 And the top prize is awarded to The Naturals, for their compelling, coming-out-of-nowhere memorabilia collection scheme that could take sports sites where they've never gone before: to the heart of the game. They won these classy-looking certificates, suitable for framing.
They also won trips to New York City this spring, to MLB.com's central offices. There they'll get to see the inner workings of a real, truly live digital multicast server complex. And they'll also get an opportunity to follow in the footsteps of some of their predecessors in previous challenges: the chance at employment with MLB.com. In this economy, the greatest gift a college student may ever receive isn't an iPad, it's a career.
ReadWriteWeb thanks and acknowledges the hard work of Julie Walas at Syracuse University, who facilitated the entire MLB.com Challenge event for all 72 students, and who offered us the use of SU facilities and offices throughout the ordeal; Jennifer Pulver of SU who made our trip happen; and Prof. Jeffrey Rubin of SU's School of Information Studies. And from MLB.com, we thank Josh Frost, Joe Kanakaraj (the team's UI designer), and UI director and lead judge Mike Hoffman – all three Syracuse grads. Watching these kids' projects through their eyes made me understand something about the nature of baseball that I'd never fully appreciated before: The moments and the highlights are so much more valuable when they're preceded by anticipation.
This was my first trip to SU; it will not be my last. I've had countless opportunities in my career to spend time covering information workers, developers, and engineers at corporations all over the world. I've watched teams of paid employees suffer over ideas that should make or break their careers. Never has so much raw innovation taken place in front of my face in 18 hours' time. Sure, a lot of it was mockup. But there was more reality in many of these students' mockups than in many software providers' final products.
I remembered the times my friends and I spent the overnight hours rethinking the way the world would be made, writing online games or point-of-sale systems or order tracking programs. What we made didn't change much about the world, but that didn't matter. Who we became, made a much bigger difference. There were flashes of brilliance on the cold, dreary morning of November 11 in Syracuse. For some, those flashes may have been bright enough to leave permanent impressions. One evening years hence, these kids will remember what they did here. They'll remember the change it made in them, and they'll have recovered the most valuable prize of all.