Way back in December of last year, Facebook released its connections map. FlowingData.com recently released an inverse of the Facebook friendship map, showing where in the world people don't use the social network. Facebook has not been able to adequately penetrate the non-Western markets of China, Russia, South Korea and Japan.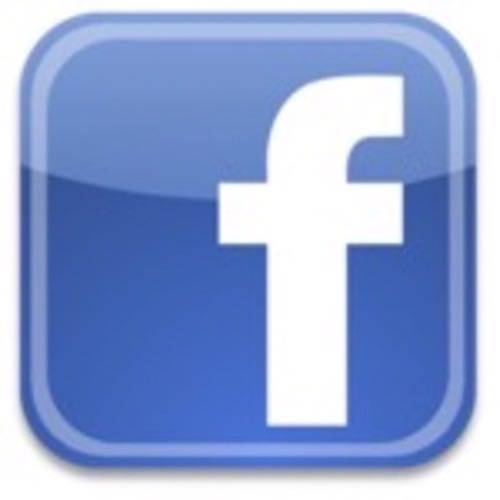 To create the UnFacebook map, visual arts grad student Ian Wojtowicz mashed the Facebook connections map with NASA's map of Earth at night. The blackened areas show heavy Facebook usage, and the brightest yellow specks represent places where people do not use Facebook. Judging from the yellow on the map, those areas appear to be the Eastern most point of Brazil, the Eastern part of China, most of Japan, South Korea, the tip of Gabon, a tiny portion of Canada, random areas of Russia and parts of the Middle East, specifically Iraq, Syria, Kuwait and Saudi Arabia.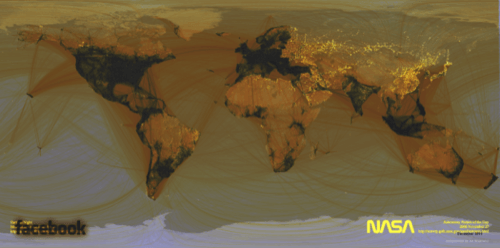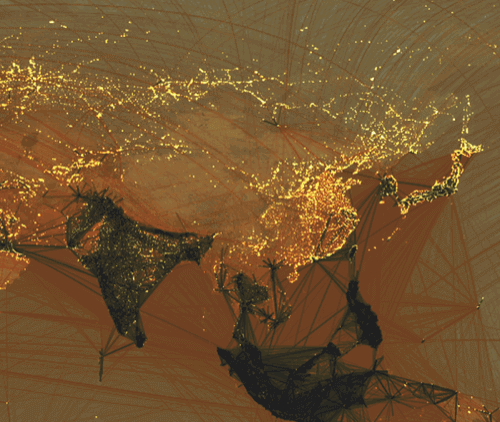 Social Networking in China, Where Facebook is Banned
Facebook has been blocked in China since 2009, yet users in the country number 530,520, according to data from SocialBakers. The number of users were expected to exceed 700,000 after Zuckerberg visited the country in December 2010.
October 2011 marked the seventh annual National Cyber Security Awareness Month. China vowed to its control over social media and instant messaging. Of course, there have been talks between Facebook and China, but China still employs strict, national-level censorship. Even if Facebook did enter the Chinese market, things would be tricky, reports Vator.tv.
"While embarking in the Chineses market would be an instant boost in the reach and usership numbers of Facebook, it could also result in negative publicity since entering the market would require censorship and other adjustments to the platform."
Currently, the top three social networks in China are Qzone, Renren and Pengyou. The Chinese social network, QZone, registered 505 million active users as of July 2011. RenRen claims 117 million registered users, but of that only 31 million are active, says BusinessInsider. Pengyou, which launched in December 2010, is China's third largest social network, with users numbering 101 million.
Where Russians Social Network: Odnoklassniki.ru and Vkontakte.ru
Russia's two biggest social networks, Odnoklassniki.ru and Vkontakte.ru account for the yellow dots on this map. Vkontakte.ru is the leading social network in Russia, and roughly translates as "In Contact" according to a post by RussianMarketer.com. As of June 2011, it claimed over 118 million user accounts and 99 million activated accounts. Odnoklassniki.ru, which is more like Classmates.com or FriendsReunited.co.uk, broke 100 million users this past June.
If The Japanese Have Gree, Mobage-Town, Mixi and Yahoo Mobage, Why Would They Bother With Facebook?
In Japan, Gree, Mobage-Town, Mixi and Yahoo Mobage are the biggest contending social networks.
Japanese social networks usually have a strong gaming element that attracts and connects its users. Facebook and Twitter are more about exchanging content and organizing information. In a study from 2010, researchers found that 75.4% of Japanese only accessed social networking sites from their mobile phone.
In March 2011, Facebook became the number six social network after Yahoo! Mobage, Gree, Mobage-Town, Mixi and Twitter. Mobage, which was launched October 1, 2010, passed the 3 million users in five months mark. Gree, Mobage-Town, Mixi and Twitter ranked high as well. This could be because of Facebook's emphasis on using real names, suggests SearchBlog.Asia.
"Japan has traditionally had a unique online culture where people tend to keep their privacy and feel insecure disclosing their personal information online. That is one reason why Facebook first struggled in the market as their rule is to have your real name posted. Mixi however allows users to use their nick name instead. Mixi also has a functionality whereby people can check who has visited their profile as people tend to like to know who has visited their page."
Interestingly, Mixi's features are similar to Facebook. Mixi Check is like Facebook's Share feature, and Mixi Check-In works like Facebook check-ins or Foursquare, tagging a user's physical location on the site. Still, Mixi encourages users to use nicknames on the site, yet on June 29, it changed the view of My Mixi (friends on Mixi) to include friends' full names in parenthesis under their nick names.
The full name is not necessarily a user's real name, like on Facebook. Anyone could use a pseudo name, if they felt so inclined. Still, this update made Mixi more similar to Facebook. Then, on September 1, Mixi launched Mixi Page, which are semi-public web pages for companies, shops and individuals who feel they need their own semi-public web pages. This is a lot like Facebook Pages, actually. On October 11, Mixi released an iPad app and Windows phone versions.
As of February 4, 2011, Mixi had 22.39 million users. In Japan, Facebook has only 2 million users.
Gree, a site that focuses primarily on mobile games, had 23.83 million users, snatching the top spot from Mixi in July 2010.
Mobage Town technically has 24.48 million users, but that's only if you sum up the original, mobile-only network Mobage Town and Yahoo Mobage, which recently launched a PC-based new network with Yahoo Japan.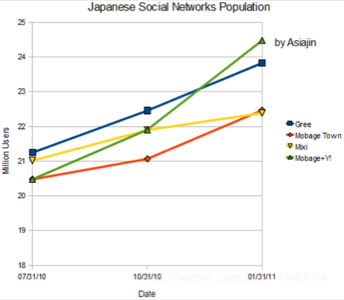 Where Do South Korean Social Networks Stand?
South Korea is one of those countries that calls itself "democratic."
In South Korea, SK Communications runs the popular social networks Nate and Cyworld, which hold 35 million users total. Accounts on both those sites were compromised in July 2011, after an attack by Chinese hackers.
In December 2010, the newspaper Korea JoonGang Daily reported that the government would be cracking down on pro-North Korea Facebook entries.
"Spreading North Korean propaganda through social-networking sites like Facebook and Twitter will be blocked starting next year, according to yesterday's Ministry of Justice briefing to President Lee Myung-bak on its 2011 policies."
In September 2011, the Electronic Frontier Foundation sent an open letter to the Korean Communications Standards Commission "condemning attempts to shut the public out of their work and urging them to embrace online freedom of expression." Here is a copy of that letter.