Just in time to hit the new iOS 5 Newsstand, The Guardian has launched a swanky new iPad edition. The app delivers content mirroring The Guardian's Monday through Saturday papers, but the design is all digital. Pages swing smoothly between portrait and landscape modes, the ads are interactive, and photos and videos abound.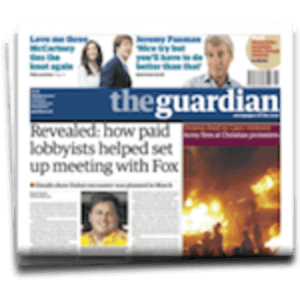 The app is only available for iPad users running the newly released iOS 5. To promote the launch, the first 87 issues of the iPad edition are free. After that trial period, the cost of a weekly subscription is £9.99 or $13.99 per month.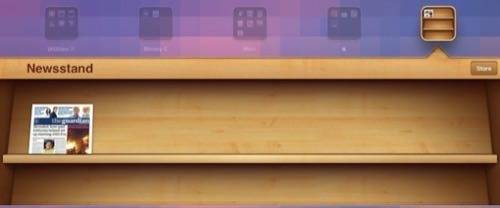 Read All About It
The app comes in through the Newsstand feature of iOS 5. All its text and photo content are available offline, and related stories open in a browser view. Readers can swipe back and forth between stories instead of having to tap around through menus. The app offers story sharing through Facebook, Twitter and email.
"The Guardian iPad edition is a new, fresh and appealing form of our newspaper content," says editor-in-chief Alan Rusbridger. "The single daily download and the hierarchy of articles will suit people who love the Guardian's newspaper content. To that we've added a selection of relevant web articles."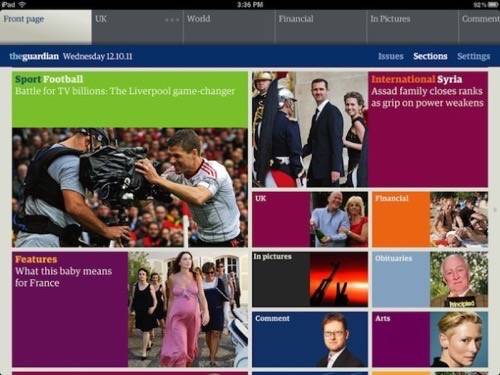 Rusbridger says the app reflects the organization's digital-first strategy. That's a curious remark, considering that this iPad edition mirrors the print paper, but we'll let that one slide, because this app is a first-rate tablet experience.
The Guardian has also offered a free photo gallery app for iPad called Eyewitness, which launched in February.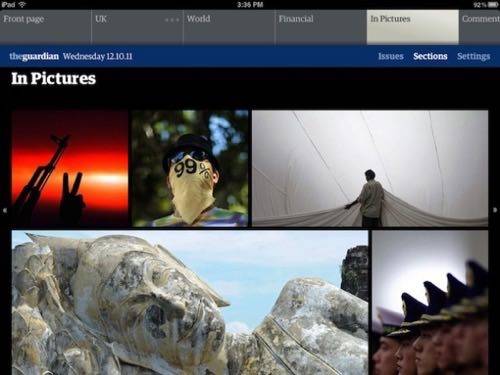 The Guardian's Moves Across The Pond
Though this app centers around the U.K. edition of the paper, it has plenty to offer international readers. The Guardian has made it clear that it has international ambitions as a news organization, too. In September, it announced the launch of a U.S. homepage and declared that it was hiring U.S. journalists. It also offers a free U.S. version of its iPhone app.
As we reported yesterday, new studies show that tablet owners love consuming news on these new devices. The Guardian's new app is an excellent example of all the qualities highlighted by consumers in that study.
Take the Guardian iPad Edition for a spin and let us know what you think!