Replicating your company's data off-site in real time or close to it is important — reconstructing munged or lost data is a headache at best, and that's assuming you can do it. But protecting the data and keeping it available isn't that useful if you don't have systems to run it on, as anybody whose desktop crashes at two in the morning knows all too well. So it's not surprising that a number of IT service companies, like IBM and SunGard have been offering "failover servers in the cloud" business continuity option.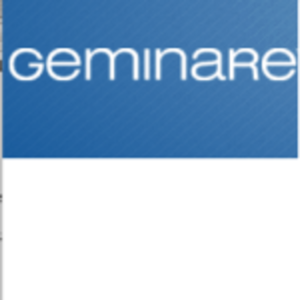 One interesting one is Toronto-based Geminare.Their Cloud Recovery/Auto Failover service has two notable aspects:
First, they offer a software-only on-premises solution. There's no hardware to buy, install, or maintain, not even any provider appliance to simply provision power, connectivity and space (and security) for.
Pretty darn fast, automatic failover. According to Geminare CEO Joshua Geist, "The Cloud Recovery/Auto Failover service has a real-time replica in the cloud, so if something happens to the production site, user traffic fails over within about a minute."
The Geminare service supports email file servers, databases, and other applications, and the company says they have an RPO and RTO of one minute. The software agent is doing block-level replication, so data shouldn't get lost. A few transactions might be delayed for a minute or so — but no data should be lost, the company says.


Here's where the story gets real interesting: Geminare can do the "failback" to the original system in the same minute-or-so timeframe. Costs for Geminare's Cloud Recovery/Auto Failover start at $500/month (typically, for up to three days' of service per month, and no, unused time doesn't roll over).
Daniel Dern is an independent technology and business writer, who has written one Internet user guide, and thousands of features, reviews and other articles for various technology and business publications, and was the founding Editor-in-Chief at Internet World magazine, and editor of Byte.com. His blog can be found at http://www.tryingtechnology.com/ and he can be reached at dern@pair.com.
Suppose you don't need near-instant, automatic failover — but again, assuming your data is protected, if something happens to a server environment, if you don't have a backup system, you can't crank up your apps again.
For these circumstances, Geminare offers its Virtual Server Rapid Recovery, which maintains a restore-ready image that can be cranked up on a Geminare server, and even work with third-party online backup services such as Iron Mountain Live Vault, which may have your data. (Geminarre does not currently offer online data backup.) This gets you going a lot faster than if you have to build a new production server. Virtual Server Rapid Recovery starts at $50/month, for up to three days of active service per month.
Even if you're protecting your key servers with automatic failure, don't forget to monitor these — so you know when something happens — and your other servers — so you can take action. (See Monitor MongoDB Servers with Server Density.)
And yes, this means IT is requesting yet more money for BC/DR — another form of insurance, part of the techno-security blanket. But when — not if — something goes this wrong, having one or more real-time or near-line failover solutions will, I predict, prove worth every dollar.