For the better part of the last year, rumors have been swirling around the possibility of Amazon launching its own tablet computer. For nearly as long, the device has been touted as a potential challenger to Apple's iPad, which remains overwhelmingly dominant in the space.
This morning, Amazon's tablet was finally unveiled. Should Apple be concerned?
The iPad Has More Functional Hardware
As far as hardware is concerned, the Kindle Fire looks more like a cross between the Nook and the Blackberry Playbook than an iPad copycat. Yes, it's a full-color, touchscreen tablet with an app store, but the Fire's similarities with the iPad don't go much further than that. The device has no camera or 3G connectivity. No microphone. No accelorometer. At 7 inches, its form factor is smaller than the iPad, although Amazon is reportedly considering launching a 10-inch model if this one works out.
The Kindle Fire comes equipped with a dual-core processor, 7″ IPS display and weigh 14.6 ounces. That's considerably lighter than the iPad, which is a bigger device. It only comes with 8GB of storage on the device, but Amazon is offering free cloud storage of content, so that shouldn't be an issue. Curiously, they're encouraging people to host all of their content in the cloud, but isn't offering a 3G connection for ubiquitous connectivity.
For Amazon, It's All About the Content
This is very much a media consumption device, rather than an all-purpose tablet for browsing, video-chatting, gaming and whatever else app developers can dream up. To be sure, customers will have access to Amazon's Appstore for Android, which houses a curated, yet wide selection of apps. But if the Kindle Fire was built for anything, it was built for consuming content. Amazon has shored up agreements with publishers and TV networks in advance of this launch, and the UI of the device itself seems to encourage activities like reading and streaming.
For Apple, iPad is One Device in a Suite of Many
This is Amazon's first foray into offering hardware beyond a simple e-reader. Apple has been doing this for years. Not only has it amassed a rabid following of dedicated customers, but Apple has begun building out its ecosystem so that it spans devices. With iOS 5, which will go live in a few weeks, the content on Apple devices will sync wirelessly. In the latest version of Mac OS X, the desktop has started to feel more like its multitouch devices.
The more tightly Apple ties those devices together, the more challenging it will for any competitor to pluck away users from any one device. Amazon has a tablet. But Apple has a tablet that fits in perfectly with its smartphone, music player, desktops and laptops. They're even rumored to have an HDTV on the way.
Not an iPad Killer, But Definitely a Competitor
Amazon may have a hard time winning over hardcore Apple fans, but that's not to say the company isn't well-positioned to steal away a sizable chunk of the tablet market by attracting new customers.
One area in which the Kindle Fire has an undeniable advantage over Apple is its price point. At $199, it's less than half the cost of the cheapest iPad (which, by the way, doesn't include 3G either). The Fire's pricetag includes a 30 day trial of Amazon Prime, which offers customers free shipping and access to the company's ever-expanding library of streaming video.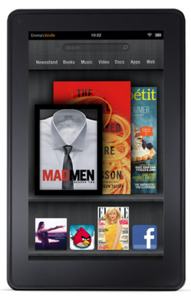 The Fire also supports Flash. That may not be a key selling point for the average consumer, but it's one thing the iPad lacks. If the device proves popular and helps Android tablets take a bigger bite out of the iPad's market share, Apple may find itself reconsidering its position on Flash.
It's no mistake that Amazon will start shipping this device a few weeks before the holiday shopping season officially kicks off. If it wasn't planning to drop the price of the cheapest iPad before the end of 2011 (why bother?), Apple must be considering doing so now.
While the hardware on the Kindle Fire doesn't stack up to the iPad at first glance, it's also worth remembering that this is only the first iteration of Amazon's tablet. Presuming things go well (as they have with the original Kindle), we should expect to see new generations of this device, with progressively more impressive tech specs. After all, the first iPad didn't have a camera either.