For the past three years, I have been doing custom-made video screencasts for private consulting clients. These are moving captures of the images on a PC screen with my own voice-over narrations about IT-related products (you can see the entire collection here). And lately, more vendors have stepped up their own efforts to produce their videos as a way to explain what their products do, or as Mike Lee has said, what they might eventually do. There is also a growing awareness that these screencasts can be used as way of product documentation and support.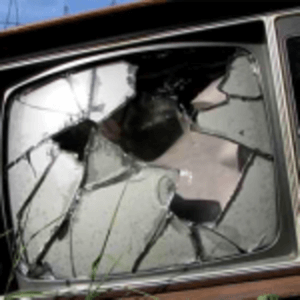 Let's talk about what tools you need, some best practices that I have gleaned, and some other places to learn more about this craft.



Here are the tools that I use. While certainly there are lots of similar ones, they are pretty much the minimum set that you'll need.
Tool time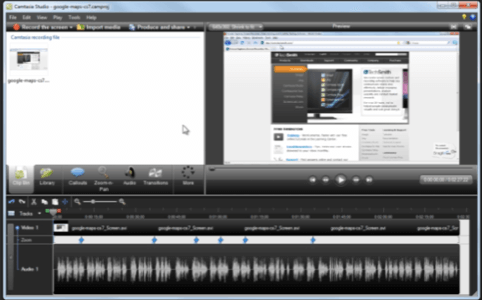 Some tips and best practices
Okay, so you have your toolkit. Now I'll share some of my tips that I have learned down through the years.
A word about your audio: I write the script and record it first, with an eye and an ear towards what I am going to end up displaying on the screen. Some people do it the other way around. I have found that it is easier to edit with audio first, particularly to get the synchronization and timings right. Speak clearly, crisply, and engagingly. Use your audio editor to remote any umms, you-knows, and other verbal pauses or mistakes. Vary your tone: you are reading a script, but don't want to sound like you are. Think about when you read books to your young kids, that is the kind of voice I am talking about. Also, talk faster than you would normally in conversation: a viewer can always hit the pause or rewind buttons if they want to hear or see something again.
Keep the video simple. Camtasia and other products have all sorts of special effects, to zoom in and out and cross fade and so forth. Resist the temptation to remake Star Wars here and just deliver the goods. While you should zoom in if the area that is of interest is small, we don't need a lot of fancy tricks because ultimately they can distract. I use 800×600 resolution, which seems to be just the right compromise between bandwidth and clarity of the presentation. YouTube and others now offer HD resolution and wide-screen formats too: but not everyone else does yet, so 4:3 formats are probably best for now.
What about overall length? Three minutes is ideal. Longer and you will lose viewers. A three-minute video will be about 500 words of script, give or take. Use the time wisely, and combine your narration with the visual element to deliver your message. Cut out the dialogue that doesn't describe any action. Here is an example of the kind of drop off of one of my videos (from Wistia's tracking service), where you can see less than half of the people that started watching this three minute screencast were there at the end: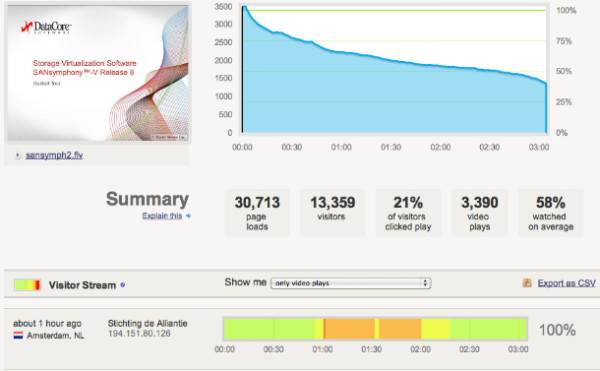 Pick where you are going to distribute and name your channels consistently. Certainly YouTube is a good place to start, but there are other how-to sites that are important too. My favorites are 5Min.com, Vimeo.com and WonderHowTo.com. When looking for a site to host your content, see how much tech-related content they already have, and how easy is it to brand your content if you want to post more than one or two videos?
It isn't about going viral. While certainly it would be nice to have one of your videos hit the stratosphere, you are looking at building an audience and keeping them coming back for more. The only way to do that is by word of mouth, and for people to gradually find you. So slow growth is better, and that also means regular infusions of new content, just like the best magazines (or TV series for that matter). Come up with a regular production schedule that will guarantee video content getting posted regularly.
Don't forget about text descriptions around your video frame. Some of the better video hosting sites allow you to post up to 1,000 words of descriptive content around the video. Some don't allow for much beyond a title and a few tags or keywords. This text is very important for organic search traffic, and also as a way to set expectations for your viewers once they land on your video page. Create a great title that conveys what you are trying to do. Write your text with a compelling call to action. Put in a URL where viewers can go for more information. Include things like pricing, what requirements are needed to use your product or service, and other details here too.
Want to learn more?
There are a number of places that will also teach you how to do these screencasts yourself using a video, naturally. The folks at
CodeSchool have a wonderful hour-long video
that goes into tremendous detail of their style of screencasting. While I don't agree with everything they recommend, it is a good solid tutorial on how to get started here. A far shorter tutorial can be found here from the folks at Attachments.me here (the background music is a no-no IMHO):
http://www.youtube.com/watch/oVahA1ZMgP0
Finally, if you want some suggestions of places to look for great screencasts (other than my own humble examples above), a good place to start is this article from our archives.. It is a bit outdated has plenty of links to suggested videos. Good luck with preparing your own screencast!