This time last year, we compared the growth of the two leading light blogging services: Tumblr and Posterous. The conclusion was that Tumblr had all but defeated its rival. All through 2010, Tumblr showed exponential growth. That has continued into 2011. Over the past year, Tumblr has grown from just over 100 million visits per month to over 300 million now (according to Quantcast). Over the same period, Posterous has grown from about 7M visits per month to about 11M. So the gap has widened: a year ago Tumblr got 14-15 times more visits per month, now it's double that.
Tumblr is now so popular that its founder got invited to The White House and its logo acquired a fish jumping through it. Tumblr is also getting 12 billion page views per month, an estimated 8 times more than WordPress.com.

Tumblr vs. Posterous, in visits per month. It's no contest now.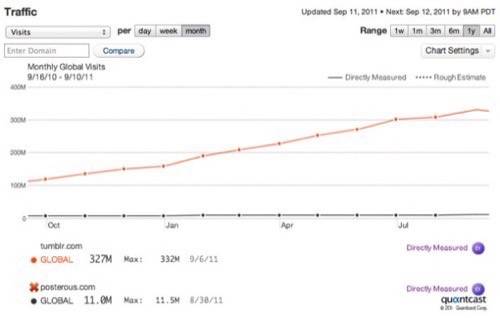 A better comparison these days is between Tumblr and WordPress.com, the leading full blogging platform. While WordPress.com still gets more visits (but not page views, as we'll see below), Tumblr is drawing ever closer.

Tumblr vs. WordPress.com, in visits per month.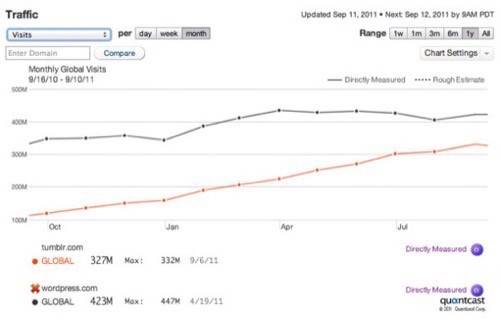 The two services offer different things, so this is somewhat of an apples and oranges comparison. WordPress.com is a fully-fledged hosted blogging platform, while Tumblr is a light blogging and curation service. I myself use both products. However, both are blogging services and so it's worth comparing the statistics.
At the end of last year we estimated that WordPress.com was larger than Tumblr in terms of unique visitors and number of bloggers. However we noted that Tumblr had about twice the number of page views per month.
On the page view front at least, Tumblr has exploded in recent months. Quantcast puts it at 12 billion per month currently, compared to 1.4B for WordPress.com. So Tumblr now gets 8.5 times more page views per month than WordPress.com (at least according to Quantcast, which in my experience tends to be the most accurate public web statistics tool).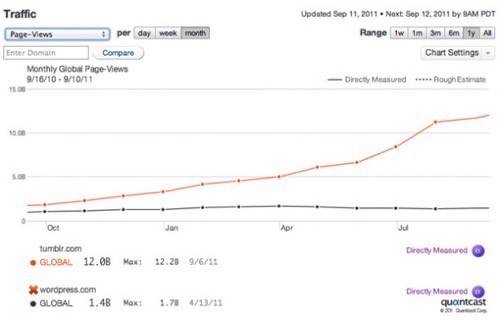 Before we get too excited, we should remember that Facebook is still a blue whale compared to both Tumblr and WordPress.com. Quantcast has Facebook at 7.4 billion visits per month in the U.S. alone.
What's the upshot of all this? Maybe just that Tumblr has scaled incredibly well and shows no signs of slowing down. WordPress.com hasn't had the same exponential growth, but it's certainly been no slouch either. Both services are enormously popular and many people use them side by side.
Let us know your thoughts on Tumblr compared to WordPress.com in the comments. Should WordPress.com be worried?