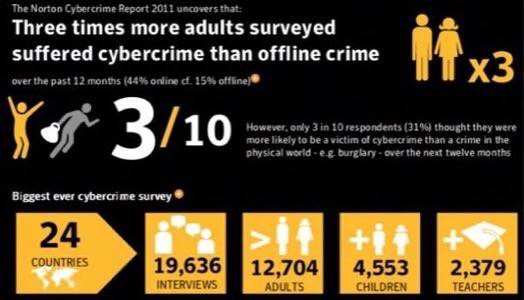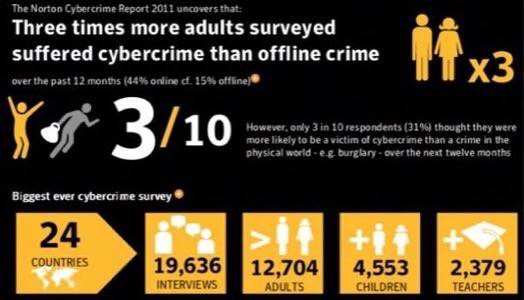 Cybercrime is booming business. According to Symantec's newest Norton Cybercrime Report, the money involved with digital attacks is now almost as lucrative as the illegal drug trade – $388 billion last year. That includes productivity lost to cyber attacks, money corporations and individuals use to thwart cybercrime and direct cash losses associated with viruses, malware and identity theft.
Norton says that 73% of adults in the United States have experienced cybercrime in their lifetime. That seems low. If you use the Internet, you navigate phishing scams, viruses, spam and poisoned search results on a daily basis. Are the cybercriminals winning?
Cybercrime victims valued the time they lost due to cybercrime at $107.6 billion. In the U.S., the total cost of cybercrime was $139.6 billion. Those are some hefty sums. With the amount of money that is available for cybercriminals, it is no wonder that the security companies have been playing catch-up for the last
The most common victims of cybercrime in the U.S. are males. Norton says that 75% of males in the U.S. have been victims of cybercrime compared to 71% of woman. The increase is due to more risky behavior by men, such as viewing adult content and using gambling websites. Nearly a third of U.S. men have viewed adult content online, while only 6% of females do so.
The most common type of cybercrime are viruses and Trojans that malicious programmers use to steal information or force a users computer to join a botnet. Viruses or malware have at one time infected 56% of online adults. The second most common cybercrime is credit card fraud (18%) followed by phishing schemes (14%).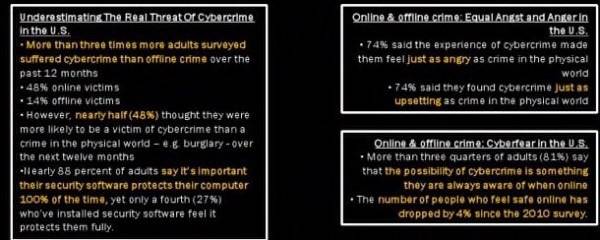 From the mobile perspective, 46% of U.S. Web users access the Internet through their mobile devices. Symantec/Norton says that 8% of online adults have experienced mobile-related cybercrime and that most smartphone users do not use or are not aware of ways they can protect their devices and mobile browsers.
Symantec/Norton's report coincides with its release this week of its newest security suite. In the security industry, Norton is known for having a great PR strategy. They release their reports to influential publications at opportune times. For instance, the Norton Cybercrime Report shows consumers and businesses a bunch of scary numbers and, oh, by the way, they have new software that can protect you from that. Symantec is not alone in their timely PR releases. McAfee released its research on one of the biggest hacks of all time, Shady RAT, to Vanity Fair during the security conference season (Black Hat and DefCon) at the beginning of August.