There is a lot more to IPv6 than just a lot more addresses, including redesigned protocols, better routing, security improvements and finally getting rid of Network Address Translation. In this sponsored brief, How to Prepare for IPv6 Networking by Ed Tittel and Jeff Carrell, they dive into the nuts and bolts of IPv6 and show you what you need to know to start planning your network's transition.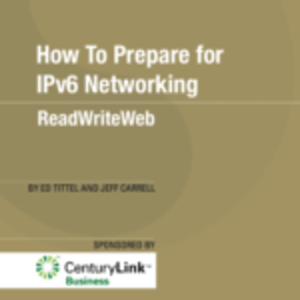 Based on hands-on evaluation of many networking products, the authors will show you what changes you need to make to your networking infrastructure, how you deal with the lack of native IPv6 Internet access, and what particular things you need to upgrade to enable key networking services. There is even a sample case study showing you the time and effort it takes to get IPv6 setup on a typical small business network.
Ed and Jeff are computer industry veterans (Ed has written for us previously) who were former Novell employees, authors and hands-on corporate trainers.