It may seem less of a shock to those who experience history as a constant, flowing stream, who perceive events as progressions rather than snapshots, who remember the recent, and then the distant, past by rewinding their memories past last week, last year, the year before, to eventually arrive at a different era. For anyone else who can instantly recall the power newspapers once held, walking out on your porch for your daily bottles of milk, and how refreshing a cold bottle of Coke could be on a sweaty summer Saturday, this photograph is like being flung mercilessly into a Ray Bradbury novel.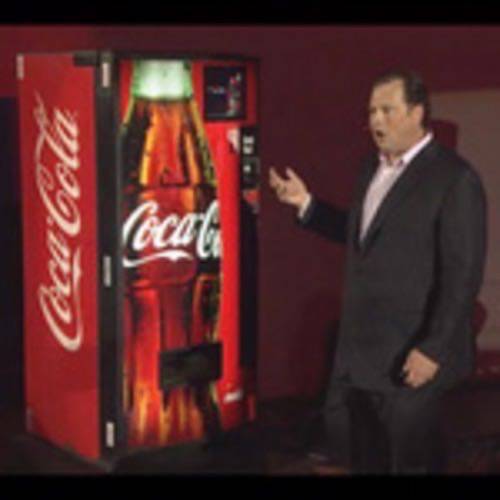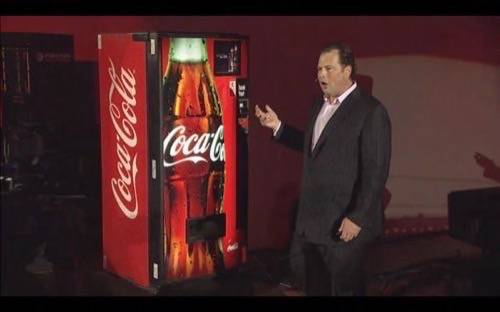 It shows the CEO of the emerging CRM software leader Salesforce.com, Marc Benioff, having walked off the center of the stage where he was giving a keynote speech for his Dreamforce conference in San Francisco, toward the very edge of the exhibit hall where there happened to be a Coke machine. This wasn't an accident; he was about to introduce Coca-Cola's chief technology officer. But he wanted to make an illustration about the untapped potential of brands to reach people. And he used this Coke machine as an example of a missed opportunity.
There's no more efficient way to present the stark surreality and the brutal poignancy of this situation than to simply state what Benioff said at this point. This is the quandary of the modern age, the era since men landed on the moon.
"I'm a friend of Coca-Cola on Facebook," he started out, standing two feet away from the machine, "and I come up to this Coca-Cola machine which was probably created before Facebook. How am I going to connect to this machine?"
His hand was within striking distance of the dollar slot, but rather than engage in some impersonal exchange, he reached for his iPhone. "I just put my iPhone in front of the Coke machine, my iPhone knows where it is, it's got geolocation! It just gave me a point for being in front of this Coke machine, a loyalty point! It knows it's got these six products. If I choose 'collateral' for any of these six products at this time, I get another loyalty point. I'm connected to Coca-Cola."
"We have to ask that question: How do all of our products become social? How do all of our cars become our friends?"Mark Benioff, CEO, Salesforce.com
The wonders only begin from this point. "Then Coca-Cola updates my Facebook page. It says, 'Ah, Marc likes Diet Coke!' It's right here, and it starts to work with me. It starts to have a relationship with me. We can bring the offline world online. We can have more customer intimacy."
This brings up some interesting and unique questions, as Benioff describes them. How would Coca-Cola be able to dial into the huge customer database of folks who just bought Diet Coke and Mr. Pibb – a process called "connecting to the social enterprise" – if Salesforce's database model runs on a per-user basis? The problem forced Salesforce to revise its licensing model specifically for so-called social enterprise situations, to avoid a scenario where Coke would have to raise its price per bottle.
Benioff's re-envisioning of the pop dispenser followed three other examples of everyday businesses utilizing social network channels to connect with customers on a very personal level. One comes from Gatorade, which sent the conference a video showing what it called a "Mission Control" center. Its job is to collect real-time telemetry and analytics on the number of times Gatorade and its affiliated brands appear in tweets, Facebook pages, and public chats, and if necessary to intercept those chats to interject positive information that keeps those chats on message.
Really, that's exactly what it is, not a joke: a little war room, done up in Stanley Kubrick lighting, for the express purpose of detecting when and where you talk about Gatorade online, and whether what you're saying reflects the message of the brand.
The second example comes from Disney, and it's quite similar. It uses the Radian6 platform, which Salesforce acquired last March, to monitor Twitter for instances where certain Disney brands pop up in conversations.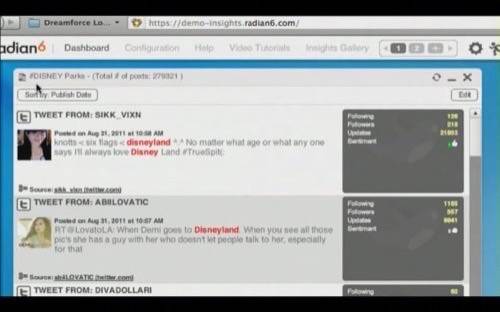 The matching tweets are weighted with respect to the social footprint of each person tweeting. The resulting graph gives the monitor inside Disney's version of the war room a real-time perception not only of what's being tweeted, but the size of the audience it's being tweeted to.
"We can drill into the individual conversations," trumpeted Salesforce CMO Kraig Swensrud with grand enthusiasm. "And we can engage with our customers, because Radian6 is now integrated with Salesforce. We can add this tweet to the social profile."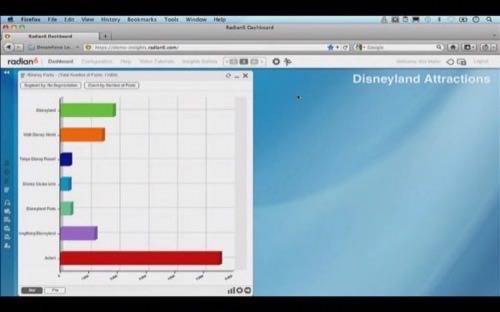 The Radian6 platform enables Disney to determine, in real time, which are the most mentioned theme parks, or characters, or ABC shows – or rather, what the most often mentioned phrases are in a given category. This results in a second-by-second indicator of real-time interest. It also, according to Swensrud, gives Disney the opportunity to inject itself into the conversation. "If we wanted to reply to this Twitter user directly from Salesforce, you know we can do that," he stated, adding that a user could also reply to that user via Facebook using Salesforce.
Or, Salesforce could do this automatically, replying back to every Twitter user who mentions a Disney product with a plug from Disney. "What we can do is begin engaging with our customers, a new level of engagement."
Third – perhaps the most ambitious extension of the concept of "social" to date – is Toyota's creation of social network pages for each of its automobiles. Not each brand of car, not each make and model of car… every car. Check its status. Keep in touch. Is it out of gas? Is it parked safely? How does it feel? Is it happy to have you as a driver?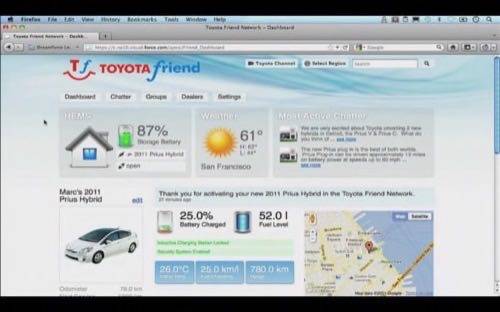 "When I look at all of our customers and all of their products," explained Benioff, "we have to ask that question: How do all of our products become social? How do all of our cars become our friends?"
Moscone Center in San Francisco is such a spacious and grand facility, although once it's full of people, it ceases to serve what perhaps should be its primary function: as an echo chamber.
Have we truly taken the time to appreciate not just the power, but the volume of this beast we are unleashing, this vehicle for instant gratification and connectivity? Are we truly prepared for the time when we walk past a Coke machine only to be notified by our phone that we're walking past a Coke machine? And for that notification to trigger a process somewhere that says, "I heard you were walking past a Coke machine. I'm Frank from Coke, can I help you today?"
And for that message to trigger some alarm in a secret Jerry Bruckheimer-style mission control room someplace, where a team of experts plots a scheme to wrest one more customer from the clutches of Coke? Something that can unleash a barrage of really cool Pepsi videos tailored to my personal tastes? Which, in turn, triggers a wave of analytics readings that determine whether I've watched the whole video or shut it off after ten seconds?
And if I did shut off the Pepsi video, what drove me to do so, and would I care to fill out this survey expressing my dissatisfaction? And would I care to see the results of this survey among other demographic groups of soda machine passers-by, perhaps in my age group, my gender, or my weight? Have I seen "Rise of the Planet of the Apes" yet? Some 45% of the middle-aged men who passed by this same Coke machine did, and they rate it a 3.8! And would the fact that I like the style of the new Dodge Challenger – a fact revealed from a deeply-embedded tweet I made last year to a personal friend – insult my actual car, which is a Hyundai? And would it tweet its disgust with my two-timing nature to all the other Hyundais in my county? How would the SUVs react? The Sonatas? The Elantras?
How would I feel at this point? For perplexed, press 1. For annoyed, press 2. For needing a little peace and quiet, press 3. Please hold for the next available psychiatrist. Your having passed by a Coke machine is very important to us.
We have to start wondering, at what point will this leveraging of social media for the purposes of data mining and customer engagement drive back the social media revolution, and force millions upon millions of new users to dial down the volume? Knowing that they could trigger a tidal wave at any moment, will people be more careful about what they share, or will they simply share less? And if they do, will all the pop dispensers and cash registers and Wi-Fi routers and automobiles of the world, notice or care? Or will they just talk amongst themselves?