You know there's a slight problem somewhere when a developer uses words like "hell fire" to refer to a project. When it comes to Etherpad, the popular collaborative editor, it's not the concept that's problematic, it's the delivery.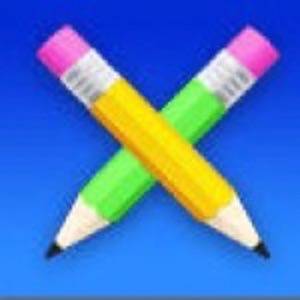 Thankfully, the Etherpad Foundation has put two years into delivering a kinder and gentler version. Called Etherpad Lite, it streamlines the original into something more manageable to install and run."
Etherpad is a collaborative real-time editor that was very popular until Google acquired the team and put them to work on Google Wave. Wave didn't do so well, but the demand for Etherpad would not be contained – Google released the source code for Etherpad in 2009 and it's developed quite a life of its own. The only problem? While Etherpad's featurepad is well-loved, its resource requirements and installation leave quite a lot to be desired.
So Etherpad Lite, which can be found on GitHub under Peter 'Pita' Martischka's tree, aims to fix that. Etherpad Lite runs on Linux, Windows and Mac OS X. Its resource requirements, 1.5MB of code and about 30MB of RAM when running, pale in comparison to Etherpad's 30MB of code and up to 1GB of RAM when running. Likewise, the installation is much easier and its dependencies are much lighter than Etherpad. Linux users can whip Etherpad Lite onto their system with just seven steps, Windows users can start running Etherpad Lite in four steps.


If you have struggled through putting up Etherpad already, there are instructions on migrating the database to Etherpad Lite on GitHub.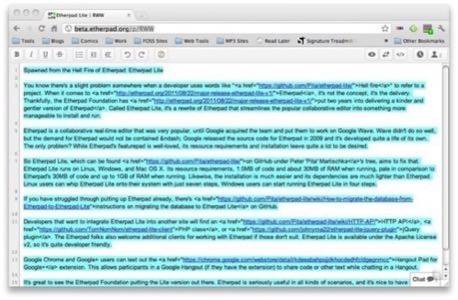 Developers that want to integrate Etherpad Lite into another site will find an HTTP API, PHP class, or jQuery plugin. The Etherpad folks also welcome additional clients for working with Etherpad if those don't suit. Etherpad Lite is available under the Apache License v2, so it's quite developer friendly.
Google Chrome and Google+ users can test out the Hangout Pad for Google+ extension. This allows participants in a Google Hangout (if they have the extension) to share code or other text while chatting in a Hangout.
It's great to see the Etherpad Foundation putting the Lite version out there. Etherpad is seriously useful in all kinds of scenarios, and it's nice to have it in a lightweight version that's dead easy to install without gobbling too many system resources. Now that it's freed of Purgatorial requirements, think you'll be using Etherpad Lite?