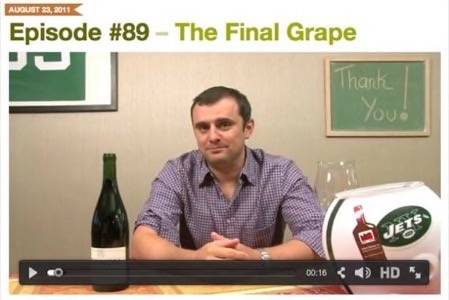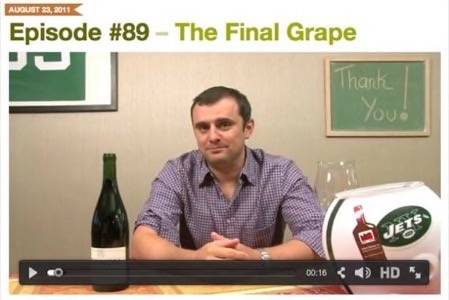 Gary Vaynerchuk, the dynamic wine salesman-turned video blogger-turned social media marketing mega-guru, announced today that he is retiring from the popular daily wine tasting videos he's posted online for more than five years. The Russian-born 35 year old recently announced a multi-book publishing deal and has a high-end consulting practice.
Vaynerchuck's Wine Library TV has offered accessible, enjoyable, informative short-form introductions to a wide variety of affordable bottles of wine. After producing 1000 episodes, it was briefly renamed The Daily Grape starting in March – but it was always "the Thundershow, aka the Internet's most passionate wine program." The show turned Vaynerchuk into a global celebrity and showed what the social web plus a whole lot of hustle could produce.
Vaynerchuk had the advantages of an existing offline business (which he famously turned around) and apparently a naturally super-high-energy personality, but still symbolized hope for everyone – not just that they could know enough about the high-class hobby of wine to enjoy it without feeling condescended to but also that they could rally an audience online with their own content regarding a topic of interest. If they just tried hard and humbly enough.
Vaynerchuk offered emotional thanks to his crew and fans in his final episode today. He said the show was an exhausting adventure but that he is "just ready" to move on to exploring his other ambitions.
Thanks for all you've done, Gary, not just for wine and for the people who want to love and learn about it, but for all the scrappy web content producers out there working hard to add value to other peoples' lives and build their voices on a platform that offers historically unprecedented opportunities.