Today, Box announced a tablet-optimized Android app, a PlayBook app (the company's first native app for any BlackBerry platform) and a new HTML5 mobile site. The Android version replaces the company's existing Android app and will work with both smartphones and tablets, optimizing the view depending on the device.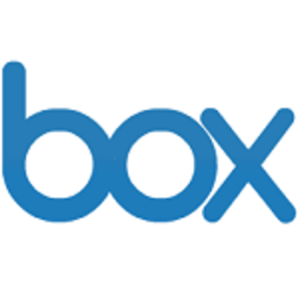 More interesting than the actual app announcements, Box CEO Aaron Levie revealed that the company has seen a 600% increase in enterprise sales regarding mobile. And yes, that's specifically enterprise sales, not overall sales. For example, Proctor and Gamble just became a Box customer based largely on the company's mobile support.

Screenshot of the Box app on an Android tablet.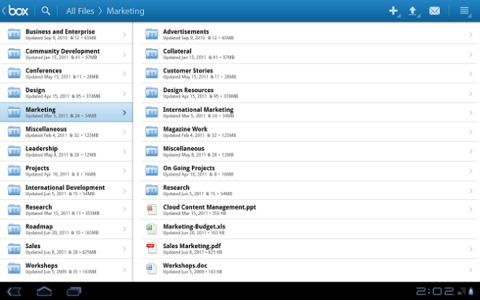 We've seen an explosion of enterprise mobile applications, especially tablet apps (as we've documented here on an at least weekly basis). But it hasn't been clear to what degree enterprises are actually demanding and taking advantage of these apps. Box's experience indicates that enterprises are indeed looking for these solutions.
In the past, I've wondered how Box would stand out in the market. Among large enterprises, SharePoint already has a huge marketshare, and companies like Newsgator and Harmon.ie are making it more palatable to end users. Now that you can upload any file format to Google Docs, Google Apps is shoring up a lot of the mid-market, and Dropbox and Google Docs have become the de facto standards for document sharing and collaboration between individual professionals. So where would Box, and its competitors like Huddle, fit into this (especially with Apple iCloud now on the scene)?
Box seems to have solved by building niche with its mobile support (the company received a leading position in the Forrester Wave on mobile collaboration) and possibly also through its integrations with Google Docs, SharePoint and various ECM systems. Box is now positioning itself as a way to glue together Google Docs and ECM systems and as a way to take documents mobile while maintaining enterprise security (thanks in part to its partnership with VMware).
Disclosure: VMware is a ReadWriteWeb sponsor