The research consultancy Latitude recently completed a multi-phase innovation study, Children's Future Requests for Computers and the Internet, which was published in collaboration with ReadWriteWeb.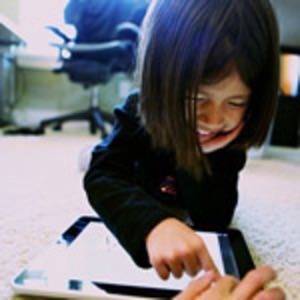 The study asked more than 200 kid-innovators across the world, ages 12 and under, to draw the answer to this question: "What would you like your computer or the Internet to do that it can't do right now?"
You can explore the full findings here:
Part 1: Kids are the Road to Tech Innovation

Part 2: From the Mouths of Babes: The Future of Tech is Robots and Real World Integration

Download the study summary (PDF) here.
By and large, kids indicated that they'd like future technology to fulfill three primary functions:
1. Serve as an extension of themselves, with more fluid and intelligent modes of interaction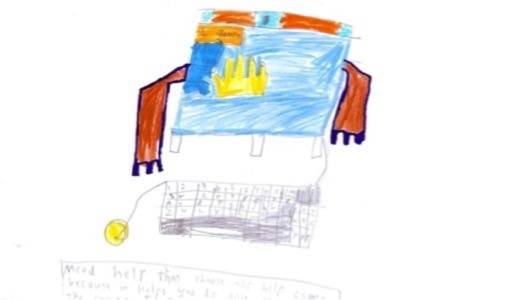 "Help Computer: it knows what you are thinking and does it for you – both touch and voice controlled." – Male, 8, Brisbane, Australia
2. Seamlessly integrate digital objects, places and experiences with the real, physical world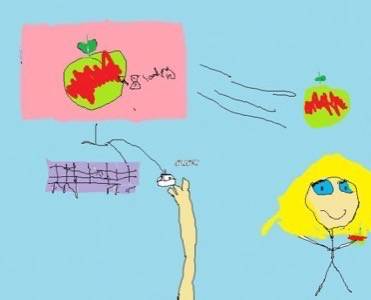 "I'd like it if my computer could convert images or food and make them real." – Female, 10, Pakenham, Australia
3. Empower users by conferring new knowledge or abilities and unlocking new experiences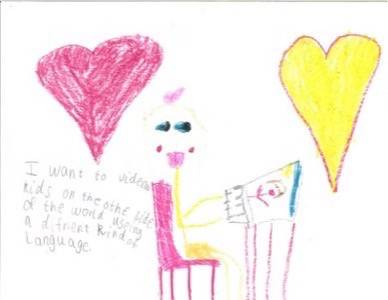 "I want to video kids on the other side of the world using a different kind of language." – Female, 7, Warwick, RI, United States
"These three expectations are especially powerful when viewed together as part of a larger framework, because they speak to the way that kids are perceiving themselves in relation to the world – and what's possible in it. Essentially: if devices are an extension of one's self, and these devices are increasingly integrated with the physical world, it follows that technology is a gateway to expanding our own experiences with and confidence in the world at large," says Neela Sakaria, Senior Vice President at Latitude.
"Technology is no longer an end in itself – instead, it becomes a path to more meaningful experiences with our surroundings. Kids are naturally intuiting this, and we as adults are following closely behind," she adds.
To illustrate the study's high-level findings and how they interrelate, Latitude created this infographic: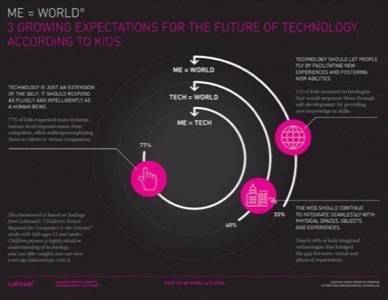 View larger size here.
Infographic created by Latitude in collaboration with FFunction, (cc) some rights reserved.
Latitude is proud to have partnered with ReadWriteWeb on phase 1 of "Children's Future Requests for Computers and the Internet." Latitude is an international research consultancy helping clients create engaging content, software and technology that harness the possibilities of the Web. To learn more about working with Latitude, fill out this form or contact Ian Schulte (ischulte@latd.com).
Image credit: Marcus Kwan