AOL is launching its entry into the increasingly crowded iPad magazine space with the new application AOL Editions. The app is somewhat similar to other high-profile efforts like The Daily, Flipboard, Plus and Zite, but attempts to find its niche by offering a personalized, social, once-daily experience which is also publisher-friendly.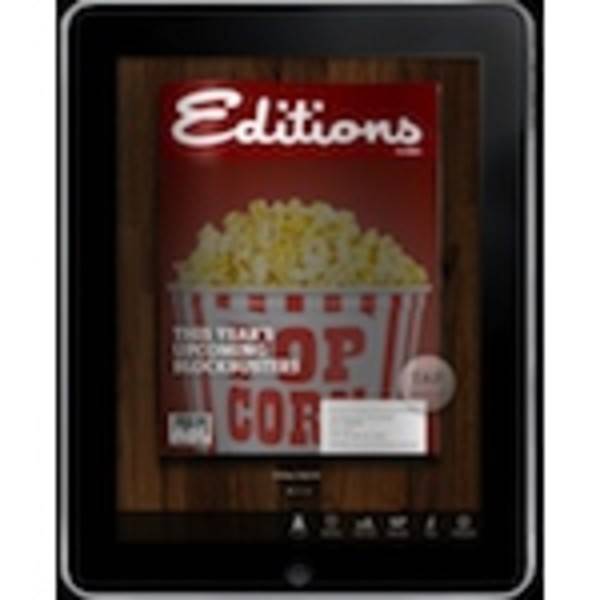 But most importantly, in an effort to further define itself, AOL has made the bold decision to forgo real-time updates in favor of a magazine that you can actually finish reading throughout the course of the day.
Your iPad Newspaper, Again
Although you can schedule your download of AOL Editions for any time of day, the magazine is clearly designed to be the iPad equivalent of either the morning or evening newspaper. The idea is that it's the paper (or magazine, we suppose) which you would read over breakfast or after work, while relaxing at home with your iPad.
According to AOL's own internal research, morning and evening are the two times of day where people really engage with their iPads. And for this reason, AOL decided to forgo offering real-time updates within the application.
"So many things today are beeping at you with breaking news," explains Sol Lipman, Senior Director of Mobile at AOL, "we wanted to make something that was succinct and completable." He also notes that most iPad owners are sitting at a computer most of their day, and can get real-time news online.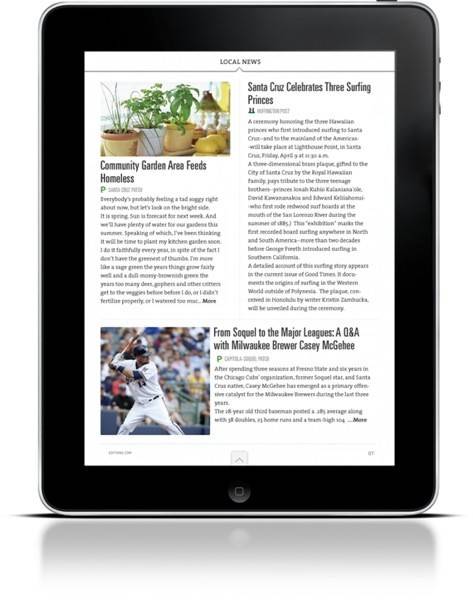 With its focus on a once-per-day interaction, AOL Editions is like News Corp's app The Daily. But unlike The Daily, AOL Editions doesn't provide original content nor does it employ human editors.
Instead, the content is sourced from a limited selection of top sources and it uses smart algorithms that learn your preferences as you tap through and read stories. These automated bots track things like what you clicked, how long you read an article and what topics you tend to prefer, among other things. Users can further refine the personalized experience by connecting to social networks like Facebook and Twitter, and by choosing their favorite sections during the setup process.
Personalization Features
Each of the 15 sections (e.g. Design, Tech, Business, Family, Health & Fitness, Sports, Entertainment, Travel, etc.) can be edited to include your favorite sources and subjects. You can also sync with iCal and Facebook to see your events, meetings and birthdays on the magazine's homepage. And articles can be saved and shared by email, Facebook or Twitter.
The app offers a few cute touches, too, like a delivery notification that mimics the sound of a paper boy or girl riding up on a bike and throwing a newspaper on your doorstep and a section showing today's weather on the magazine's cover where the mailing label would be on a traditional publication.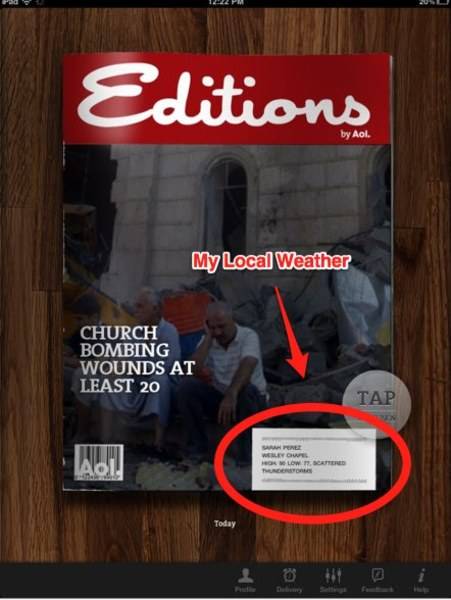 There's also an interesting feature that involves using keywords for even more refined personalization. Each article is tagged with keywords, which themselves are sourced from Wikipedia entries about the article's subject.
Sources themselves, like BusinessWeek or CNN, for example, can also be selected as keywords.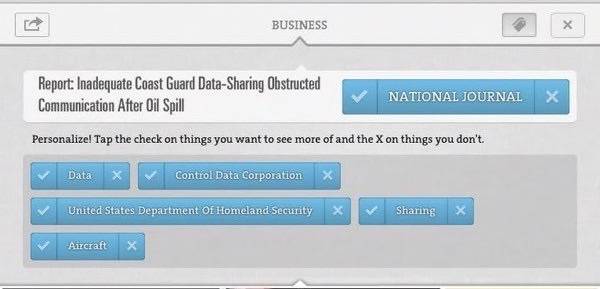 "Personalize!," shouts the header where the keywords are displayed, "Tap the check on the things you want to see more of and the X on things you don't."
That seems straightforward enough for even non-geeks to understand.
Pageviews for AOL Properties & Others
Of course, this is an AOL product, so it leverages its own properties here, including Huffington Post, and all the brands that now fall under Arianna Huffington's watch as Editor-in-Chief, including Engadget, TechCrunch, Moviefone, MapQuest, the local news content from Patch and others. It does not, however, appear to give any sort of weighted preference to AOL brands as news sources, as far as we can tell in our tests. It did however, attribute an article of mine here on ReadWriteWeb to the editor, Richard MacManus instead of me. And it put a slash in "Read/WriteWeb," even though we dropped that ages ago. But in the grand scheme of things, these are minor quirks and easily resolved.
Download for Free
AOL Editions is a product from AOL's "Mobile-First" group, a group whose focus is to develop new brands for AOL, like the recently launched music app AOL Play. With AOL Editions, the hope here is clearly to deliver a way to increase pageviews at AOL properties, within the context of an iPad application for consuming news. Editions sends readers directly to the article's website when tapped. It doesn't strip out text or ads, or attempt to reformat the article in an iPad-friendly format. It is displayed as the publisher chose, including inline photos or video, when applicable.
AOL Editions is a free download for iPad. You can learn more about Editions here. The download is expected to go live at midnight, perhaps sooner.