It's been over a decade since the beloved brick-building toy company Lego introduced Mindstorms, its robotics system designed to help kids learn programming, along with other science, technology, engineering and math concepts. We've featured Lego Mindstorms previously in our series on tools for teaching kids to code, and Mindstorms is part of Lego's broader educational efforts.
Although Mindstorms kits are available commercially, there are a series of specifically educational tools that the company has developed in conjunction with other organizations, including MIT, Pitsco, and National Instruments. These help expand robotics education beyond what was, arguably, the initial target audience: middle-school age boys.
Now, it's true that Lego may be a gender-neutral toy – loved by girls and boys alike, but robotics has often viewed as a particularly male endeavor. And while robotics programs, such as FIRST Robotics, often have as their mission to expand the interest in science and technology among all youth, it's still been a challenge to get girls and minorities interested in these programs. Mirroring the rest of the tech world, it's not just a matter of raising interest; it's also a matter of creating a welcoming and supportive environment.
Robotics in Elementary School
One of Lego's newest robotics programs goes a long way towards this, in part by starting much earlier than middle-school to introduce programming concepts. The Lego WeDo set is aimed at elementary school age children. This set uses the familiar, basic Lego bricks, as well as various gears, cams, and axles, and comes with a motor and two sensors – a tilt sensor and a motion sensor – along with a USB hub.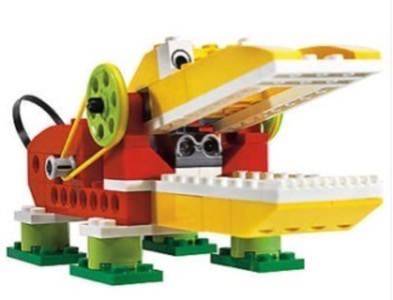 That hub lets students design creations that can, in turn, be plugged into the accompanying software and automated using a visual programming interface much like Scratch. By dragging-and-dropping commands together, students are able to easily program their creations. (In fact, you can actually use Scratch to run your WeDo robots too.)
The basic WeDo kit comes with a guide for building 12 different robots, each of them teaching a basic building concept. This makes the kits not just easy for elementary-age kids to use, but for teachers with limited programming or engineering knowledge.
But this is Lego we're talking about, and although every Lego kit comes with the designs for various models, the fun really begins when you start to design and build your own creations. The activities around the WeDo encourage just that thing – and not just with the building of models but with the programming component as well.
All of this makes WeDo seem a lot less "robotics" and a lot more, well, "Lego." The comfort level most of us have around Lego could be key to getting more students (and teachers) interested in science, technology, and engineering.
Rethinking Robotics Education (Rethinking Legos)
But Lego is also investigating other programs and projects to help challenge some of the stereotypes about robotics. At the ISTE conference last week, I watched a demo of Lego's Green City Challenge, a programming kit that asks you to build robots for environmental good, not just as battle-bots. While the skills learned in this challenge echo the sorts of things necessary for other robotics competitions, there's a social element here that, according to Andy Bell, LEGO Education's Director of Innovation and Alliances, may help get more girls interested in engineering and robotics.
All this effort at getting younger users to learn programming doesn't mean that Lego is forgetting older students. Indeed, Lego's robotics programs extend well into college now. Lego Tetrix, for example, is fully compatible with Lego Technic (the line of Legos that includes rods, wheels and more moveable parts) and with the Mindstorms controller. The big difference with Tetrix: the pieces are metal. (I don't know about you folks, but I'd rather have a Lego self-driving car than a Google one. Somewhere, there's a kid working on that very project right now. Thanks, Lego.)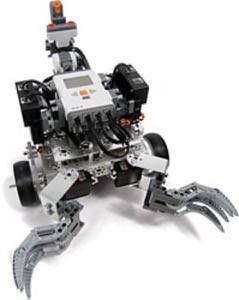 The challenges that our schools face in teaching science, technology, engineering, and math have been making headlines lately, with many business and political leaders expressing concern that we aren't doing enough to equip students to work in the tech sector. It may well be that Lego, the most loved toy of all time, could go a long way to helping address that.