Ai Weiwei was arrested yesterday at the Beijing Airport on his way to Hong Kong, the New Yorker reported. Ai, China's best known artist, a global star and designer of the Beijing Olympics stadium, the Bird's Nest, had plans to possibly leave China to live in Germany, where he had set up a studio, according to Deutsche Welle.
We cover threats to free speech here, especially when those threats intersects the Web. Sometimes we know the people involved, as is the case with Ai. Our founder, Richard MacManus, took part in an historic conversation a year ago in New York with Ai.
According to Richard, the quality that defined Ai the most for him was his curiosity and humility.
It was an honour to meet Ai Weiwei in person last year in NYC. I wasn't sure what to expect, but he came across as a very warm-hearted and curious person. He wanted to know all about what I do, even though he's achieved much more than I have. Then during the discussion on stage, it became clear that he's both very brave and always keen to challenge the status quo. He probes for the truth in whatever he says or does.
One of his assistants posted this on Ai's Tumblr account.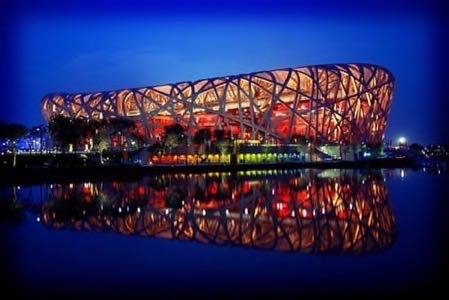 April 3, 2011. Ai Weiwei was detained by two customs officers while crossing customs in Beijing Capital Airport. Just separated Ai Weiwei and his assistant. By the two customs officers taken to a separate location. Ai Weiwei's phone has been shut off, and he's already been out of contact for 50 minutes. The situation is unclear. Please everyone pay attention. (Note: This is an assistant tweeting.)
Continued news on his detainment can be found there and on Ai's Twitter account.
According to the Washington Post, the police "also blocked off the streets to his studio and raided it, carting away laptops and the hard drive from the main computer…eight staff members and Ai's wife, Lu Qing, were taken to the local police station for questioning."
Although Ai had increased China's reputation in the world of art, he had yet to receive permission to stage a solo show in his home country. His February show was canceled due to political pressure and the Shanghai studio he built was demolished by order of the Chinese government.
Ai's arrest is not an isolated incident, nor, probably, just the workaday oppression of artists in China; it is instead part of a renewed crackdown, against an anticipated infection of freedom from the Mideast's Jasmine Revolutions. Keith Richburg of the Washington Post theorizes that this is an attempt to further lower the level of expression in the country.
Thanks to Carl Levinson | Ai poster photo by Sanfamedia | Birds Nest photo by Edwin Lee