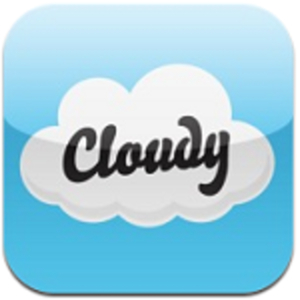 Have you ever tried asking a question on Facebook and wondered if anyone ever saw it? The problem with asking all of your friends on Facebook a question through a status update is that you never know who is going to see it. Between Facebook's algorithms, the mass of updates and the simple fact that not everyone lurks on Facebook 24 hours a day, you never know who your question will reach.
Enter Cloudy, an iPhone app that "lets you quickly and easily ask groups of friends for their opinions."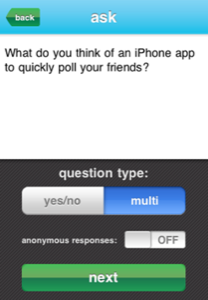 The app just launched in the App Store yesterday and makes it simple to create quick polls of your friends.
Pick friends from your contacts – even if they don't have an iPhone – and Cloudy will text them your question. Cloudy then displays the responses to your yes/no and multiple-choice questions, and allows you to easily send your decision back to your friends. You can also answer questions from your friends right in the app.
Cloudy lets you create friend groups for quickly asking the same people about something over and over again. Unlike group chatting apps, Cloudy is more of a polling tool than a communication tool. That is, you create either a yes/no question or a multiple choice poll and send it to your friends. As they vote, you can see their responses on the app.
On the vote-creating end of things, everything was smooth as butter. On the response end of things, however, not all were satisfied (as you can see in the screenshot of the poll responses). We imagine it's an entirely different experience when all parties have the app, but when you're on the SMS end of things, you get one message after another and need to reply with specific words to respond – it's almost like suddenly being thrust into dealing with the DMV's automated phone system when you were just going about your day.
There are lots of apps these days that are making sure to be inclusionary, but we're wondering if this one might have left the SMS out of it. At what point do we leave the idea of feature phones behind, then again? That might be a question for another day, but it feels pertinent here. The in-app experience is great, whereas the SMS experience just got complaints.
Nonetheless, creating polls, getting statistics and being able to ask your friends for very specific responses, rather than simply asking open-ended questions, feels like something that could be rather addictive to the right crowds. "Which pizza place is better, Pepe's or Sally's?" you might ask.
What do you think – is a poll something you want to subject your friends to? Or do group messaging apps like Beluga or GroupMe satisfy all your needs in this realm?