Word of mouth is an incredibly powerful marketing tool, but how do you work out which customers are most important in spreading your message? Services like PeerIndex or Klout help you find experts and influencers in particular communities, but can't measure what people have actually done for your business. The new Vipli.st service from Awe.sm aims to fill this gap by uncovering the fans who drive the most sharing.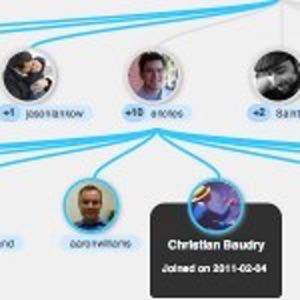 Launched at the Strata Startup Showcase last week, the site visualizes how Plancast events are shared across social networks like Twitter and Facebook. It draws a tree showing the first person to create a plan, with links below to everyone who added themselves as attendees after clicking on that link, downwards through the entire history of the conversation around the event. Here's what it looks like for a SXSW Lean Startup plan:


The number next to each name shows how many attendees each person helped to sign up. Eric Ries is responsible for bringing in 10 attendees, which is no surprise since he's the best-known evangelist for the Lean Startup movement. How about Melissa Grody of 500Startups though? Despite having a pretty low-key Twitter account with just over a hundred followers, she's indirectly responsible for four signups, thanks to Patrick Vlaskovits picking up her tweet. Broad influence measuring services would never flag her role, but Vipli.st makes it possible to spot and recognize fans like her who are key to spreading the word.
The service was created by the Awe.sm team, and uses the same API that's available to third-party developers to gather the data it needs. To create the family tree of which attendees were driven by which fans, Plancast uses Awe.sm to create a new URL for each attendee that signs up, including a unique parameter that marks which user is sending out the plan. That parameter is also stored in Plancast's database, so when another user clicks on that special URL, it's possible to tell which person sent them to the site.
Awe.sm's co-founder Jonathan Strauss thinks that this sort of performance-based measurement is going to be a crucial tool for anyone marketing using social tools:
If all you want to do is reach people, direct marketing through email is a great channel. What's different about social tools like Twitter and Facebook are the retweet and like buttons, since users are far more likely to click them than they are to forward an email. The real value of social networks is in the sharing.
Plancast's Mark Hendrickson explained why this was so important to their business.
The whole idea behind our site is to help people hear about events through their friends. Vipli.st is the first time we've been able to visualize how that's happening in any kind of detail.
To explain how this could be useful to other businesses, Strauss pointed to one of Awe.sm's customers, the music store creator TopSpin (which markets online for artists like Eminem, Brian Eno and the Beastie Boys). Bands would love to uncover their most important fans, the ones who do the most to spread the word about their albums and concerts. Right now they can spot the big individual spenders, but not the penniless student who can't afford the deluxe $250 box set, but who persuades all her friends to buy the new album. She's the one they should really be inviting to their velvet-rope launch events, since she's doing far more to make them a success.
Strauss thinks broader measures of influence are still useful for brand-building, but that laser-focused performance metrics will become increasingly important to social marketers. "To understand how your social campaign is working, you need to understand how your message is being passed on down the chain". He and his team built the Vipli.st service to prove how easy it was to gather the data with Awe.sm and turn it into an actionable story. It's based completely on its public API, and Strauss is keen to work with any external developers who would like to do something similar with their own site.
I'm fascinated by the stories that this sort of analysis of public conversations will be able to tell us. By uncovering the hidden influencers within communities, hopefully we'll be able to reward some of the unfairly neglected true fans too.