The mobile version of Firefox for Android and Maemo just hit a new milestone: Firefox 4 Beta, an update which delivers speed improvements, better panning and zooming, and faster startup time, says Mozilla. Like previous versions of the browser, it also includes standard Firefox features like support for add-ons, Firefox Sync for syncing bookmarks, tabs and browsing history across devices, and even support for Personas, also known as themes.
Note: This post will focus on Firefox for Android, not Maemo.
There are a number of alternative browsers to choose from on Android, each with unique features that deliver an experience you can't get on the standard Web browser that ships on Android devices. For example, the popular Dolphin Browser offers tabbed browsing, multitouch pinch-to-zoom, extensions, YouTube downloading, gestures and more.
There's also the fast and small Opera Mini, the Android-optimized Opera Mobile for Android and the socially-infused Skyfire, to name a few others.
So what makes Firefox for Android stand out? Here are a few pros and cons:
Pro: Sync
For anyone who uses Firefox as their primary desktop Web browser, the Android version is a great complement to that experience. With Firefox's mobile edition, your open tabs, browsing history and bookmarks sync from desktop to mobile and back through Firefox Sync, a behind-the-scenes feature that acknowledges the fact that your connected life doesn't live in two different silos – desktop and mobile – but that you want your mobile life to be an extension of what you began at your notebook PC….and vice versa.
This is a feature that should be standard on any mobile browser, but sadly isn't. Between my 4 computers, 1 tablet and 2 mobile phones, it's a feature which could serve me well. However, I have to admit I'm a Google Chrome user. I'm missing out here. That's not to say there aren't alternative solutions for Chrome users, but these feel more like workarounds – isn't not as easy as simply choosing to install the same app on multiple devices.
Firefox Sync isn't new to this particular beta update, but it's the one feature that constantly sits in the back of my mind, making me wonder if it may be time to give Firefox another go.
Pro: Performance Updates
Also new to Firefox for Android (and yes, Firefox for Nokia's Maemo platform too), are a number of performance improvements. Mozilla says that JavaScript benchmarks now show Firefox 4 Beta outperforming the stock Android browser. It's roughly three times faster on Kraken, twice as fast on SunSpider and slightly faster on V8 (all ways to test browser performance).
Mozilla also addressed issues regarding slow start-up time, page load time, responsiveness when panning and zooming, stability issues, memory usage, readability and some keyboard issues. Many, many steps in the right direction here. For previous Firefox beta testers, the performance improvements should be noticeable, in fact.
Pro?: Add-ons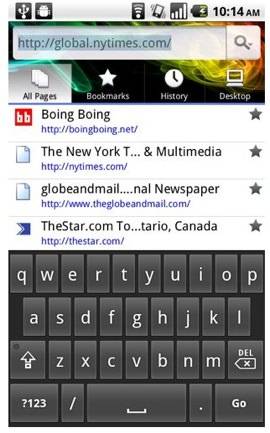 Firefox's add-ons support is a feature that probably deserves a listing here on the "pros" side, although personally, I'm more pleased when the functionality included in a browser out-of-the-box means I don't have to install add-ons.
I remember all too clearly my former add-on obsessed days on Firefox: the crashes, the waiting for add-ons to update when new versions of Firefox came out, the toolbar clutter. When Google Chrome launched, blissfully add-on free, it was difficult letting go, but eventually became a breath of fresh air. Now that Chrome offers extensions, I find myself falling down the same hole – the address/search bar's URL box keeps getting smaller and smaller as extensions crowd its right side.
That said, support for add-ons can be useful even on a mobile browser, for adding that extra feature or two you wish your browser had. Firefox's Mobile Add-ons Gallery now includes over 100 items to customize your browser, including Personas, the Firefox themeing toolkit.
Cons: It's a Big App, It's a Big Browser
On the downside, the Firefox mobile app is big – so big, in fact, that I actually hit a wall when trying to download it for the first time. At 13.58 MB, those of you with storage space concerns (and no external SD card) have to think hard about how much you want this. On my Nexus S, for example, I ended up having to move many apps to the device's internal USB storage and uninstalling others just to make room for it. As the installation grows with my associated data, concern over file size will linger. As someone who likes to record a lot of video with my phone, storage space is always a concern. This is mainly because the Nexus S doesn't include an SD card slot, which is now becoming a major limitation of this device. Your mileage may vary, of course.
At the end day, Firefox may be a feature-rich, robust browser, but that's both a pro and a con. While it's nice to have your data synced, too many add-ons can slow you down. The performance is better, but not great. Overall, the effort feels a little bit like you're trying to run a desktop-sized browser on a mobile platform.
I haven't "lived with" the browser for long enough to have a more in-depth opinion as I'm (relatively) new to Android, so chalk these up as first impressions. For those of your out there using Firefox Mobile, tell me: what do you think of it?