A Wi-Fi hotspot feature which can be turned on by the iPhone's mobile carriers isn't the only new addition expected in Apple's forthcoming update to its mobile operating system, iOS 4.3. A developer build of the OS released yesterday has revealed several notable additions, including support for multitouch gestures, improvements to AirPlay, new ad formats for iAd and even hints of what may be a social networking gambit tied into Apple's MobileMe platform.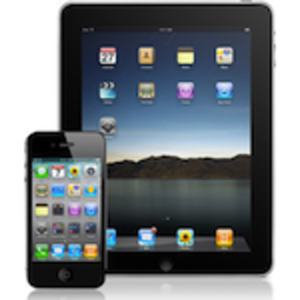 However, as a regular iPad reader, I have to admit I'm just as thrilled that the iPad's right-side toggle switch, which begin its life as an orientation lock (locking portrait or landscape modes) before being transformed into a mute button via the latest update, is now going to be configurable by the end user. Mute switch or orientation lock: it's your call. Thank you, Apple, thank you.
New Features: Here's What We Know
Yesterday, Apple seeded the beta of iOS 4.3 to developers for the iPad, iPhone and iPod Touch. In it are the following new features:
Wi-Fi Hotspot: As we already knew, the personal hotspot capabilities are present for GSM devices, although it's up to individual carriers to implement this setting. It's doubtful that AT&T will be one of them. Verizon, however, is.
AirPlay support for third-party native and Web applications: Previously in iOS 4.2, AirPlay, the feature that lets you stream video from your mobile device to an Apple TV or other third-party AirPlay-enabled hardware, was only available to the built-in Apple apps. With 4.3, any third party app can offer this functionality, too.
A redesigned FaceTime icon: A minor change, but it looks good.
Support for fullscreen iAd banners on iPad: A new iAd format which Apple says is "easy to implement," allows its users to collect 60% of the revenue generated.
Multitouch gesture support for the iPad: More on this below
Configurable switch for the iPad, as mentioned above, the toggle can be used as a mute button or orientation lock
HTTP Live Streaming Statistics: This allows developers to track their video streams' popularity and measure their performance.
New FaceTime icon; Credit: 9to5mac
The Biggest News?: Multitouch Gestures
The multitouch gesture support is probably the most interesting of all the known additions. When the update goes live on the iPad, you'll be able to use four or five fingers to pinch to the homescreen, swipe up to reveal the multitasking bar and swipe left or right between apps.
The gestures will have their own panel in within the Settings application on the iPad, where they can be switched on or off.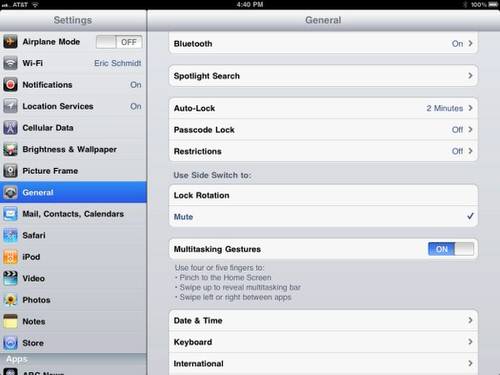 Multitouch Gestures Switch; Credit: Engadget
For some reason, the Internet rumor mill has decided that this (arguably somewhat advanced) feature means that Apple is intending to do away with the Home button on its devices. We'll go just ahead and opine here: that's crazy talk.
As Apple insider John Gruber explains, "these gestures do mean that you don't have to use the Home button. But there's a serious discoverability problem with them. The physical Home button is impossible to miss. That it is the one and only button on the faces of these devices is a big part of why normal people are able to pick them up, start playing with them, and figure out how to get around with no help…I don't think the iOS Home button is going anywhere."
Agreed.
However, they look like great fun to try.
Find My MobileMe Friends?
A more curious development is the reference to a "Find My Friends" setting within Apple's MobileMe service. MobileMe, a premium service providing email, calendar, contacts, file and photo sharing and more, appears to be adding a social element, too. In the developer build, this feature was spotted in strings related to the Settings app, but what it means is still unclear.
One line of speculation is that this may be the start of a location-enabled service, which will help you find your friends near you.
And perhaps, as Engadget recalls, it's related to that Apple patent application which showed plans for a location-based social networking app called "iGroups." As described, iGroups would let people share data with each other using a service like MobileMe.
Find My Friends, Credit: Engadget
Finally, iPad Gets Its Orientation Lock Back
If you're a regular iPad reader, especially one who lounges in bed, reading the iPad at odd angles, you know that the device's orientation sensor is easy to trigger. Just a slight move, and the screen flips from portrait to landscape. Fortunately, the built-in toggle switch made keeping the screen locked into place a breeze. But in iOS 4.2, Apple decided to make the toggle switch function more like it does on its other mobile devices – the update turned it into a mute button.
Now, it's not like you couldn't use orientation lock feature – it's still there – it's just that process became a bit more cumbersome. You have to double-tap the Home button to bring up the multitasking bar, swipe right to reveal the player controls and then tap the orientation lock icon. Three steps when it used to be one.
And yes, this was my own personal pet peeve, I have to admit. If you at all felt the same here, you'll be pleased to know that the toggle switch will now be adjustable. If you're dying to have it return to its old ways, that will be possible: orientation or mute, it's your decision. For once, Apple isn't telling me what's best, but is giving me a choice, and for that, I'm grateful.