The Mobile Web has been a huge trend in 2010 and one output of that has been the emergence of app stores. It started of course with Apple's App Store for the iPhone and then iPad. Then we saw other app stores come onto the scene: Android Market, Nokia's Ovi Store, Microsoft's Windows Phone Marketplace and others.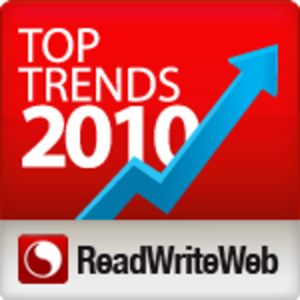 In addition to these OS-based app stores, there are independent outlets catering to multiple types of OS (like GetJar), carrier app stores, device app stores, tablet app stores and retailer app stores like Amazon's forthcoming Android one. So it's been a very busy field! Let's take a look at some of the highlights of 2010.
ReadWriteWeb's 2010 In Review:
Growth of Apple & Android
The two leading OS app stores are Apple's App Store and the Android Market. Both have grown significantly throughout 2010.
At the start of the year, Apple's App Store had about 120,000 apps and the Android Market 20,000.
Now, iTunes is carrying over 300,000 apps and has had over 7 billion downloads – according to statistics on Wikipedia. By comparison, Android has around 175,000 apps and has had 2.2 billion downloads, according to AndroLib. So while Apple's App Store is nearly twice as large, Android Market has had the most growth over 2010.

Source: Wikipedia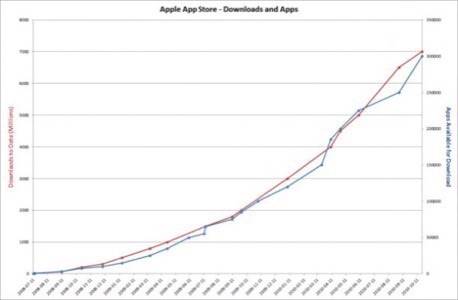 Indie App Stores: GetJar
The biggest app store success story this year outside of Apple and Android has been GetJar, which is one of the top 3 app stores in the world with over a billion downloads across 200 countries. The store now hosts over 70,000 mobile applications for all major platforms, including Android, iPhone, Blackberry, Windows Mobile, Symbian and others. In October, it launched a promotion to give away millions of free mobile games to customers who visit the company homepage at GetJar.com.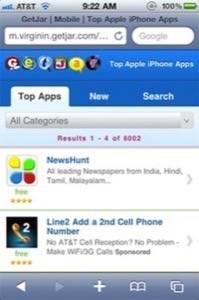 Unlike other app stores, GetJar doesn't rely on the sale of apps to generate revenue. Instead it charges publishers for sponsored app placements on its site.
Lots of Apps, But Usability an Issue
While app stores have prospered and proliferated in 2010, the usability and design of many of these stores leaves much to be desired. A common complaint is that it's difficult to find the best apps, due to the overwhelming quantity of apps to choose from. The iTunes App Store, for example, has fairly broad categories and little personalization options.
We ran a poll at the end of October asking which was your least favorite app store. The results should be taken with a grain of salt, because the lesser used app stores didn't attract as many votes. Nevertheless, according to our readers the Android Market needs the most improvement.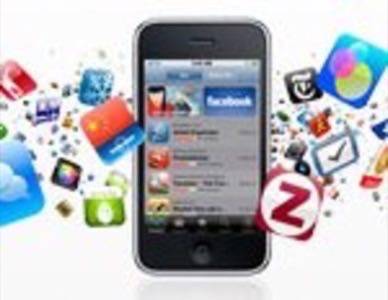 Android Market 29.25%

Blackberry AppWorld 16.71%

Ovi Store 15.88%

iTunes 11.7%

Windows Phone Marketplace 11.7%

GetJar 8.08%

Palm App Catalog 5.85%

Other: 0.84%
App Recommendation Sites
Given that the app stores themselves are having problems filtering apps, other services have arisen to help with this. As ReadWriteMobile editor Sarah Perez reported from the Open Mobile Summit in November, app recommendation sites are doing a great job at driving downloads.
Some app recommendation sites and services to check out include ?Appoke (a combo Android app, store and social network), AppStoreHQ and its recommendation engine at appESP, Applolicious, Chomp, AppsFire, AppBrain, Appboy, AppAware, Smokin Apps, iApps.in (a semantic search engine for apps), 16apps, Apptism, Freshapps, ScatterTree, Frenzapp (a cross-platform app and recommendation engine that looks at what your Facebook friends like), Sidebar (a recommendations platform for developers), Chorus, Appsaurus and Appitalism.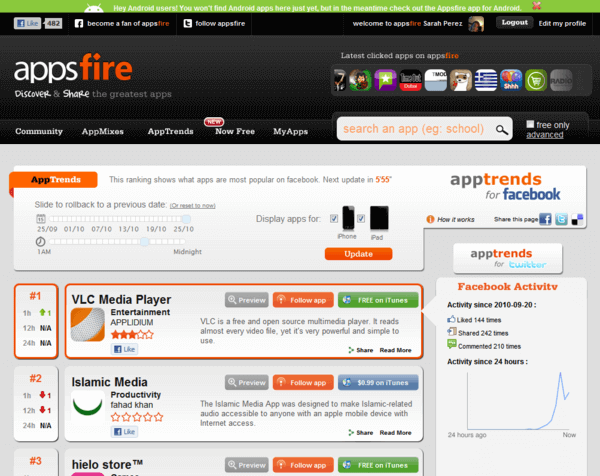 Web App Stores
While app stores have been mostly a mobile phenomenon, Apple and Google are going to launch app stores for web applications very soon – and Mozilla has already released a prototype.
All three companies have very different strategies. Apple's Mac Web App Store will probably look and feel a lot like iTunes and it will offer apps curated the same way the iTunes App Store is today, with many of the same restrictions. Google Chrome App Store will operate inside of Google's Chrome browser. It will be open to all apps that operate on the open web. Mozilla's Open Web App Store is a technology prototype that will let any website host its own web app store.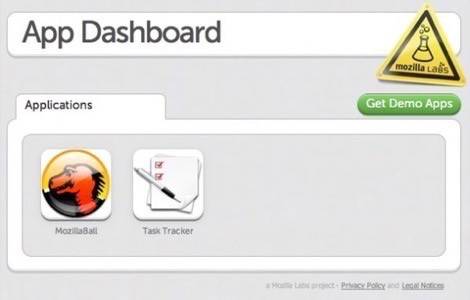 Those are some of the highlights from the world of app stores in 2010. The overall trend in this market segment is going steeply upwards, especially for mobile app stores, and we don't see that abating any time soon.
Let us know in the comments what app store you frequent the most and your opinion of it!