What's the hottest mobile operating system (OS)? The one that customers desire the most and plan to upgrade to next? According to Nielsen's new data, it's practically a tie between iPhone (iOS) and Android. In the analytics firm's latest mobile report, it found that 30% of users will choose iPhone (iOS) while 28% of users will buy an Android device.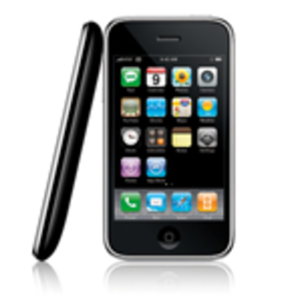 For those who have never owned a smartphone before, the choice is apparently getting tougher. When feature phone users were asked what their next desired mobile operating system will be, 25% said they just weren't sure. In comparison, only 13% of current smartphone owners said the same.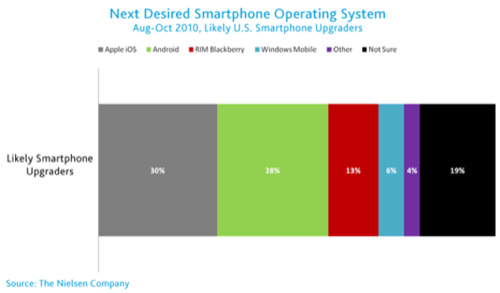 Says Nielsen, when only smartphone owners were asked about their upgrade plans, a preference for iPhone (35%) over Android (28%) was seen. However, feature phone owners were decidedly less certain. As noted above, 25% were unsure of their top pick, and those over 55 were even less sure, with 27.8% saying they didn't know what they would choose.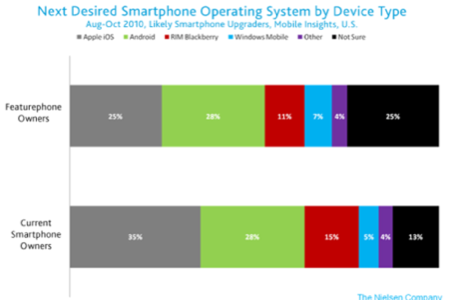 Overall, women showed a slight preference for iPhone (30.9% of females chose iPhone, vs. 28.6% of males.)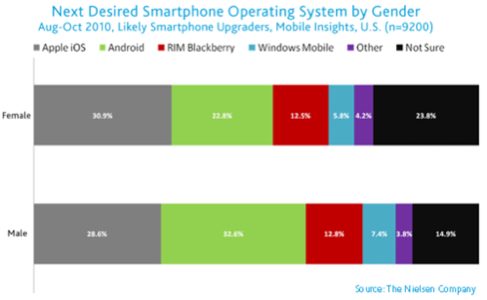 Nielsen also reported on the current U.S. mobile market, which is now 70.3% feature phone users and 29.7% smartphone users.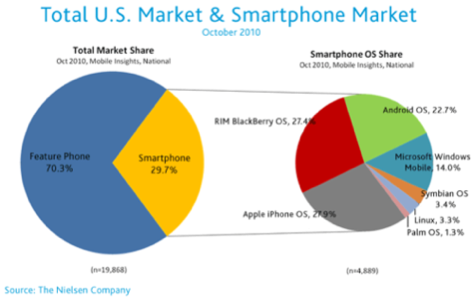 Currently, the two most popular mobile OS's are iPhone (27.9%) and Blackberry (27.4%). Android is a close third at 22.7%.
Who Will Win this Battle? Depends on Those Feature Phone Users
From this data, it's clear that both Apple and Google (by way of its handset manufacturers and carrier partners) have made the case for their respective mobile OS products. With iPhone, consumers know they're getting a top-of-the-line device, complete with Apple's thoughtful design, the largest App Store and the accompanying iTunes ecosystem for media management.
Android however, is selling itself as a "more open" platform, where Apple-like restrictions are not in place, which allows for some much sought-after features (depending on OS version) like tethering, Wi-Fi hotspot capability, apps of any sort and more customization options – down to swapping out the on-screen virtual keyboard for a new one. Android handset pricing in some cases has dropped so low, the phones themselves are being sold at feature phone price points. For many, price is still the number one factor in buying decision like these, and among that group, Android could have an edge.