Two new enterprise apps are debuting today that work on the iPad. Last week, Google Docs became available on the iPad.
All three apps follow a theme. They provide new ways for a mobile workforce to get work done. With an iPad, workers in the field do not have to carry a laptop or dedicated device that has limited capabilities besides what it is hard coded to do.
ServiceMax launched an iPad app today that gives service people a tool for managing their schedules, routes and the work they do for clients in the field. WatchDox is for securely sharing documents in a mobile environment. For its part, Google made good on its promise to port Google Docs to the iOS and Android platforms.
ServiceMax
ServiceMax is designed for people in the field. It gives them the ability to look at work orders and tasks. Sales people can look at schedules and plan a route based upon the priority of the call.
The ServiceMax app provides driving directions and job details; a knowledge base provides data about the client. Salesforce Chatter is integrated into the service for collaboration.
Further, the app allows the field representative to track parts and labor, as well as expenses. It includes electronic signature capabilities for signing contracts and agreements. It also generates a PDF that can be emailed for record purposes.
WatchDox
WatchDox by Confidela is a document control and tracking technology with what it calls bank-grade online storage. Downloading, editing, forwarding and printing can all be controlled through an administration platform. The administrator may revoke access any time. People receive different permissions based upon their role. Tracking provides a detailed audit trail that allows every interaction with a document to be logged, along with its time, user and location.
The WatchDox "Virtual Data Room,"allows an admin who can create and manage an unlimited number of "rooms" and folders. Each room is accessible and visible to its members only.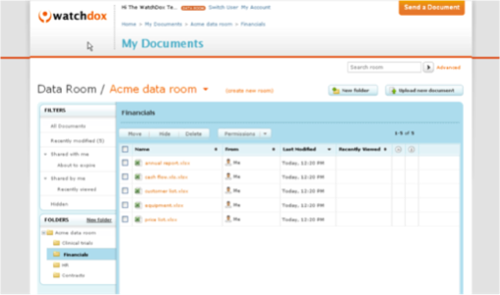 Google Docs for Mobile
Full co-editing capabilities are now available for mobile devices. The app has all the features of the new co-editing capabilities in Google Docs.
Is the iPad better for field representatives than a smartphone or a laptop? Particular tasks are well suited to a smartphone. For example, we have seen its effectiveness for providing alerts. IT managers are using smartphones to constantly monitor server performance.
The full tablet environment may have a sweet spot with workers in the field market as it is more like a clipboard for marking off tasks. The tablet has the interface to monitor calendars, track items and collaborate with other people. That makes it simpler to use than a smartphone with its smaller screen size.