Two weeks after the injunction against LimeWire in late October that forced the P2P filesharing site's closure, a "horde of piratical monkeys" revived the LimeWire codebase and moniker, launching the LimeWire Pirate Edition. This version operated on its own servers, but since it shares the LimeWire name, the RIAA now contends that this new site means that LimeWire has violated the court-ordered closure.
And now both the RIAA and LimeWire are the trail of "MetaPirate," the person responsible for the Pirate Edition.
CNET reports that the RIAA has filed court papers indicating that LimeWire is responsible for the existence of the Pirate Edition. "Defendants have demonstrated in no uncertain terms that they either will not or cannot do what the injunction commands," writes the RIAA. Furthermore the RIAA claims that LimeWire Pirate Edition was created by someone "either formerly or presently a LimeWire employee."
The court has now shut down the Pirate Edition site, something that "MetaPirate" will not be able to contest without revealing his identity. And the court has also ordered LimeWire to turn over a variety of documents by the end of today that might point to the person responsible. These include: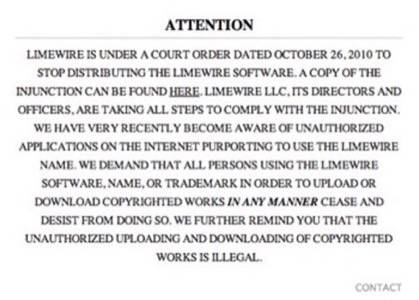 (i) a list of all current and former employees of the Defendant who, to Defendants' knowledge, have had possession or knowledge of the private key used to sign the LimeWire SIMPP file in the past year, and (ii) a list of all known LimeWire software developers, programmers, or other employees who, to Defendants' knowledge, would have been capable of excising the features that were removed from LimeWire 5.6 beta before it was redistributed as the LimeWire Pirate Edition.
When the Pirate Edition was released, LimeWire adjusted the announcement on the homepage of its now shuttered site to read that "all persons using the LimeWire software, name, or trademark in order to upload or download copyright works in any manner cease and desist from doing so." And while LimeWire feels the need to appear to be proactive in tracking down the pirated version, MetaPirate said in an interview with Ars Technica that his ability to recreate LimeWire is simply due to the filesharing software being open-source. When asked if MetaPirate was a former LimeWire employee, he responded, "I am an agent provocateur for the RIAA, and you can quote me on that."