Mobile social photo app Path launched tonight to huge press attention. Here's our coverage. After a few hours of testing it, though, it's a real surprise to see just how many features this deep-pocketed, heavily pedigreed startup launched without – after a year in stealth mode. Below is our list of 10 surprising things you can't do on Path.
Perhaps the most surprising thing, however, is that the app is still quite interesting. Some number of these missing capabilities will be deemed Features Not Bugs, but for now here's what you shouldn't expect from Path.
1. You can't comment on or Like photos
2. You can't publish photos from your phone's camera roll
3. You can't publish to other networks like Flickr (for archiving), Facebook (for broader social sharing) or Foursquare (for location check-ins)
4. You can't find friends via your accounts elsewhere, like Facebook, Twitter or Gmail
5. You can't navigate by the tags you've added to photos – it's unclear whether you can even add more than one Thing tag to a photo
6. You can't see tags or captions once you've got a photo expanded
7. You can't opt-out of email notifications from Path – and though emails say you can "pause" individual users, it's not clear how to do that
8. You can't visit a person's Path profile page if you're not already friends with them
9. You can't apply any filters or crop photos
10. You can't add friends on the web site, not even if they've already added you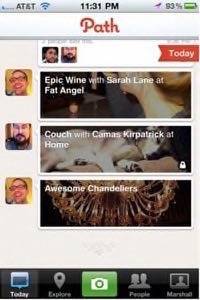 Maybe simplicity is a virtue – but come on, no commenting? I get the emphasis on private sharing – that's cool – but ought there not be the option to reach beyond a tight circle on occasion? People who are interested in Path should check out Treehouse – it's a very similar app, just minus all the rock stars backing it and with more features.
If you're in the United States, you can download Path for the iPhone here. The company is currently looking to hire developers for Android and Blackberry versions of its app.