Acquisition by a major company has become a common exit for many startups, with the first quarter of 2010 breaking records for M&A numbers.

At the beginning of 2010, Google CEO Eric Schmidt said he anticipated his company would make one acquisition per month. And this week, private research firm CB Insights has released a report detailing Google's acquisition activity over time and by sector, pointing to a rate for 2010 that exceeds Schmidt's predictions.
With still one quarter to go, Google has acquired 23 companies this year, a total that's almost equivalent to the total number of acquisitions Google made from 2007 to 2009.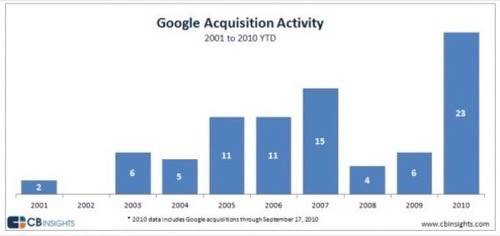 Despite all the buzz about mobile technologies and Google's growth with Android, the bulk of these acquisitions have not been in the mobile sector. Only 2 of the recently acquired companies were mobile, while 20 of the others were Internet software and services (there was a single chip manufacturing company in that list).
Not surprisingly, considering speculation about Google's move into "social", that's the industry, along with search, that dominated recent acquisitions. And despite buzz about gaming and music, any forays Google makes in that area don't seem to be linked at this time to companies they've recently acquired.
In an interview with Reuters, David Lawee, who heads up Google's M&A group, says that "In almost every deal that we look at, there's always someone or one of those companies interested." Clearly Google is in competition with other major tech firms like Facebook and Apple to acquire new talent and new technologies, and according to Lawee the millions spent on acquisition are "paying off huge."