In its early days, Twitter was supposed to help people send text messages to small groups of friends to easily organize dinner plans and keep friends updated about your status. Twitter's mission quickly changed, but Fast Society, developed by New York-based startup onebluebrick, is getting back to solving just this problem: How can you quickly update a group of friends through text messages in order to organize dinner plans or stay in touch during a concert? Thanks to the company's newly released iPhone app, this is now easier than ever before – and you can even use the app to share your exact location.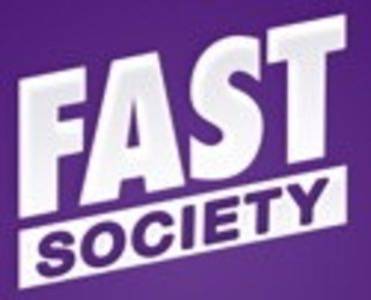 The first thing we noticed while testing the app was how easy to use it is. To get started, you simply select for how long you want your group to last (between three hours and three days), add the friends you want to your group and start chatting. All the members in the group will automatically receive a text message that lets them know that they are now part of the group and some basic instructions for how to use the service. To use Fast Society, your friends don't have to sign up for the service.
If your friends are using an iPhone and have the Fast Society app installed, they can also privately share their location with you. Besides location sharing, no other part of the service depends on the iPhone, and it is fully SMS-based. You can also use the service's mobile page from your smartphone to access your groups and start a new one.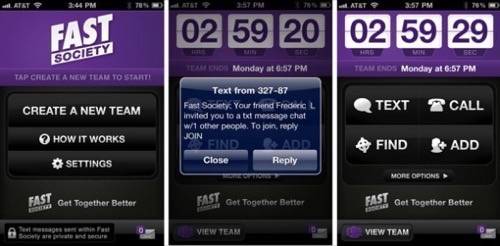 Free and Hassle-Free Conference Calls
Another nice feature of Fast Society is that you can set up a free conference call with just one click or by sending a text message ("call"). You and your friends will instantly receive a text message with a phone number to call. As the system automatically recognizes your phone number, there is no need to type one of those long access codes that can make dialing in to conference calls such a hassle.
All the Features You Need – And No More
As the company's co-founder Matthew Rosenberg told us last week, restricting the length of how long each group can stay active was a very deliberate decision. After all, you are not likely to go out with the same group night after night and managing multiple groups can quickly become arduous (though Rosenberg told us that Fast Society may offer an enterprise version or the ability to buy more time as an in-app purchase at a later point).
Overall, Fast Society looks like a winner to us. It's extremely easy to use and solves a real-world problem. The team clearly focused on stripping the app down to the basics while still covering all the necessary features to make it useful, and the free one-touch conference calls alone are worth the price of entry.