Kevin Thau, Twitter's VP for business and corporate development, announced during a presentation at Nokia World 2010 today that everyone's favorite micro-blogging network is not actually a social network.

It's not, you say?
No, says Thau: Twitter is for news. Twitter is for content. Twitter is for information.
To those of us in the tech industry, proclaiming that Twitter's main focus is not its social aspects, but its news-delivering mechanisms, is a bit like stating the obvious. But it's important that Twitter is now publicly acknowledging how people's perception of the service have changed in this regard, not to mention how their usage patterns have changed too.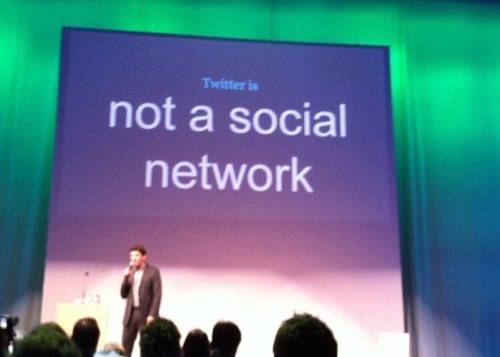 So Twitter Is "News"?
Yes, says Thau. Twitter is changing the very nature of news today. Journalists are sending their stories to Twitter and some are even publishing directly to Twitter. It's also allowing everyday users to become journalists themselves by providing them with a simple mechanism to break news.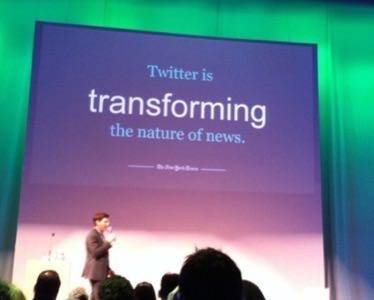 "The guy who saw a plane land on the Hudson River right in front of him didn't think to send an email," says Thau. "He tweeted it."
Thau also wanted to assure Twitter users it's OK if you think you're not interesting enough to have your own Twitter account. Don't apologize if you don't tweet – just come to Twitter and consume content instead. After all, plenty of people already do just that. In fact, Twitter has 910,000,000 uniques, based on analytics from Alexa, which makes it the ninth largest website on the Internet, said Thau.
Twitter is not just its users (although there are 145,000,000 of those), it's also the everyday people who just visit the site and read tweets.
Besides breaking news, Twitter is also a network for discussing politics, global news, entertainment (Thau noted that Kanye's apology to Taylor Swift was one of the most re-tweeted of all time), sports, humor and more.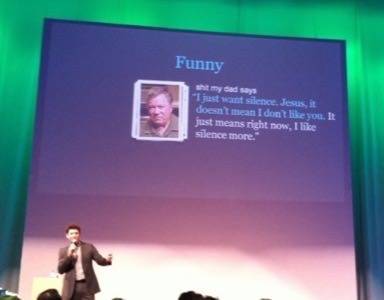 Twitter is still growing, too. Most of that growth (60%) takes place outside the U.S., specifically in Japan, Indonesia and Brazil. He then explained how the company's partnership with Nokia allows Twitter to reach to those and other emerging markets by connecting users to Twitter via the mobile phones they prefer.
His announcement goes hand-in-hand with the new features Nokia is launching on its N8 smartphones, which bring social news content into homescreen widgets that allow for simple interactions like reading updates and posting your status.
Just don't call them "social networking" widgets, we guess.