For many new Internet companies these days, "freemium" business models that hook users with free services and offer extra functionality at a price have become very popular. Today, presentation sharing service SlideShare is the latest to switch to this type of model with the announcement of its tiered PRO plans with new and advanced features starting at $19 per month.

SlideShare, which currently sees over 30 million visitors each month, has been growing in popularity among corporations that want to share presentations, videos and other business related materials. The service's three tiers of PRO service have been created for these users, from individual business pros to large enterprise corporations, based on their feedback.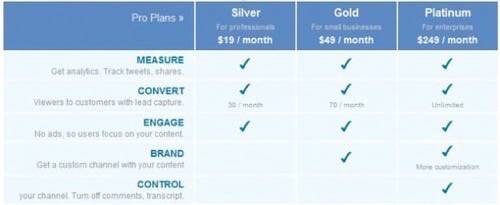 The lowest tier, "Silver" is aimed at business professionals and offers tracking analytics, ad removal and 30 lead captures a month for $19. "Gold" subscribers will receive 70 captures as well as the ability to custom brand their channel home for $49. And finally for $249, "Platinum" enterprise subscribers can gain access to an unlimited number of lead captures, and have the added control functionality within their channel to moderate things like comments and transcripts.
Previously, SlideShare users could pay to use the site's lead capture functionality, but only on a per lead basis. SlideShare had success on this micropayment model, but the desire to add more PRO features made the decision to go freemium an obvious one for the company.
The company is thinking about the future, SlideShare CEO Rashmi Sinha told ReadWriteWeb.
"It allows us to keep building our community with a compelling free offering, and to layer on advanced functionality that helps businesses and professionals get the most out of SlideShare," said Sinha.?
The features have been privately tested in beta with 125 companies for roughly a month and a half, and many large brands are making great use of the features. Dell, Microsoft, Cisco and Pfizer are among some of the early adopters, and Sinha says many of these companies have already started using the service more because of it.