Blackberry users in the U.S. barely click on mobile ads, while those who own a Symbian-powered phone click on more ads than anybody else. According to the latest data from mobile advertising optimization platform Smaato, the most interesting development with regards to mobile ads in the U.S. over the last month is the fact that click-through rates for users of Apple's iOS devices have increased dramatically.

Worldwide, Symbian devices and feature phones still lead the pack with the highest click-through rates, followed by Windows Mobile phones and Apple's iOS devices. In the U.S., click-through rates for feature phone users are low, but it is worth noting that even those users with phones that were not designed for Web surfing are still more likely to click on mobile ads than Palm or Blackberry users.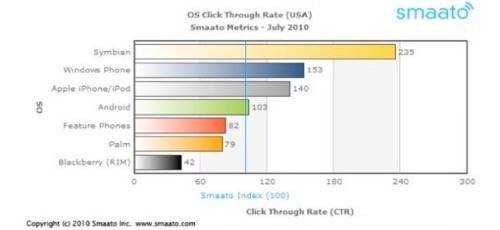 On Smaato's network, which handled about 16 billion ad requests last month, click-through rates for the iOS platform saw strong growth last month. The reason for this change in user behavior is not clear, but maybe the arrival of more interactive ads on the iOS platform (and the iPad in particular) tempted more users to click on ads than before.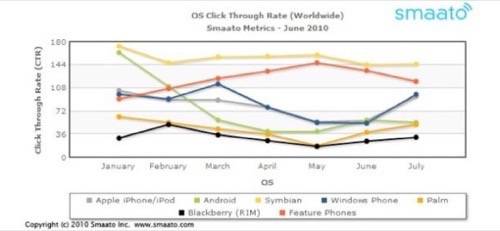 Of course, besides the different user experiences on these platforms, user demographics also play an important role here as well. In general, the more highly educated your users are, the less likely they are to click on ads, and this is clearly represented in Smaato's CTR data for the top mobile platforms.
Bonus: A Mobile Advertising Primer
Smaato also just published a new whitepaper that provides both publishers and advertisers with a good overview of the mobile advertising ecosystem and the role that ad optimizers like Smaato play in this business.