Up until now, if you were out and about and want to share something on Facebook, it would automatically be posted with your default privacy settings. If that meant all your friends, then it included your mother, grandmother and your boss too.

In response to the user demand, Facebook has now added privacy controls to its mobile website, bringing users the ability to control what they share from whatever device they chose, wherever they are.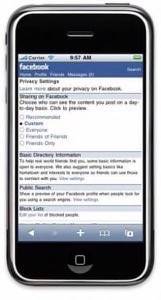 While the privacy settings are not available on the iPhone or Android apps, adding the privacy settings to the mobile website means that they are now available to all mobile users, regardless of platform.
According to Facebook's blog post on the new feature, the privacy controls are available at m.facebook.com/privacy and give users a variety of controls.
Select who can see the content you post by setting the simple control for sharing on Facebook to friends, friends of friends or everyone,

Fully customize your granular settings, if you want, and have them take effect instantly, and

Read through our comprehensive privacy guide, formatted for mobile devices.
The addition of privacy settings to Facebook's mobile offering is a great new feature, as Facebook is increasingly a tool used while out and about, rather than simply sitting at home. As the company notes in its blog post, it "noticed that people are creating content and accessing Facebook at every moment of the day, in many locations–not just from desktops."
It is currently unclear if these settings will become a part of the iPhone and Android apps, but we sure hope so. We've asked Facebook but have yet to receive a response.