Tomorrow the band Arcade Fire releases their new album, The Suburbs. It's interesting to look at how a popular band of today utilizes the Web to release and promote a new album.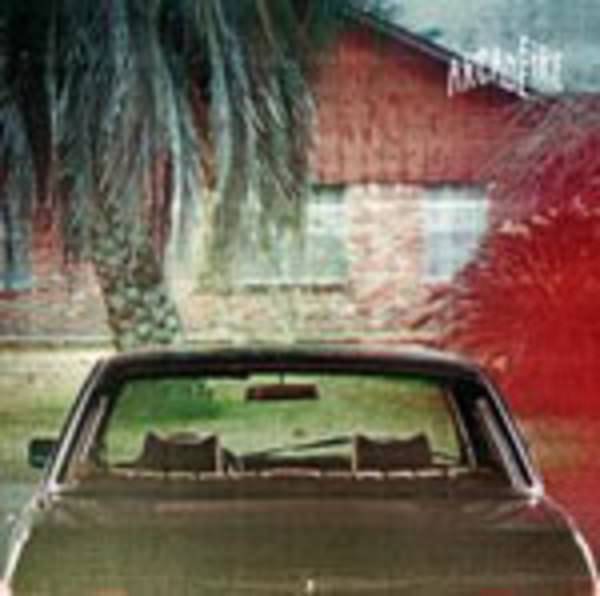 Is the band using Facebook more than MySpace now? Do they use Twitter and, if so, how? What music web sites are they using to promote the new record? What other online services, for example video communities, do they use? Let's check it out.
First things first. Even in the age of free online streaming music, musicians want to sell their music and people want to know where to buy it. Arcade Fire's own web site focuses primarily on selling the new album. There are prominent links to buy the album in a variety of formats – digital, CD and good old old-school vinyl (what, no cassette?!). You can purchase a "premium digital" copy of the new album for $7.99 – in high quality 320 kbps MP3, FLAC or Apple Lossless. The band is using a service called Topspin for this. This slightly undercuts iTunes ($9.99), but you could also get it for $3.99 on Amazon MP3 (at least for the release day).
Facebook, MySpace, Twitter
Both Twitter and Facebook are linked to on Arcade Fire's web site – but strangely, no MySpace link. The Facebook Page feels like it is maintained by the band's record company or marketing team – it's all promotional information and there's little sign of social networking by the band members. But it is packed with information about events and the new album, so fans won't be complaining. Interestingly though, there is no actual music on the band's Facebook Page. That probably says more about Facebook's clunkiness when it comes to media.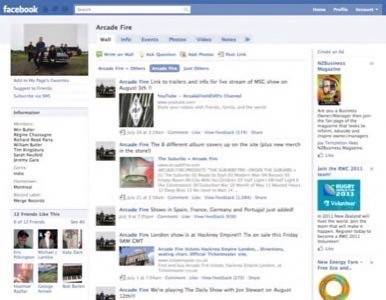 Even though they don't link to it from their web site, Arcade Fire's MySpace page has a couple of songs from the new album available for streaming. Its MySpace blog was last updated one month ago. Overall, it seems that Arcade Fire is still paying cursory attention to MySpace – but little more. At least MySpace has the band's music available on-site though, which is more than can be said of Facebook.
The band's official Twitter account is used entirely for promotion of the new album and their concerts. There's also a fans Twitter account, which is much more lively. That's linked to on the band's web site too.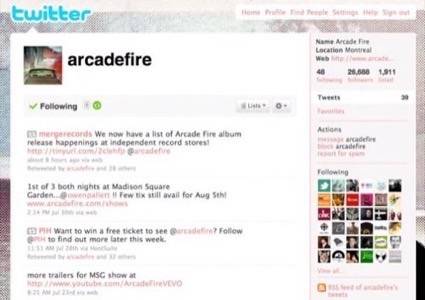 The band recently launched a YouTube channel. It will be used to live stream a concert on August 5, from Madison Square Garden – an excellent idea!
Album Promotion
A common way for musicians to promote their new albums these days is to live stream the entire album on a specialist music web site. I'm listening to a "first listen" as I write this, on NPR's web site. In other words, I can hear the whole album for free via streaming. If I like it, I can buy it tomorrow from the band's web site or elsewhere. It's the old 'try before you buy' tactic, but as a music fan myself I love this concept. It's also great for media sites like NPR too, as they get a lot of publicity themselves.
Other musicians have used MySpace for exclusive first listens before, but NPR is a popular choice for so-called alternative bands.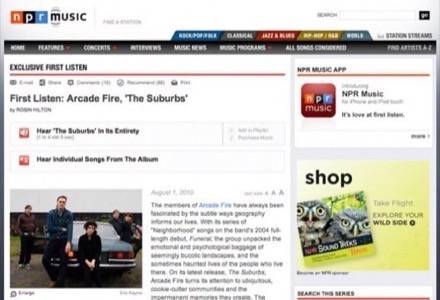 Given that Arcade Fire comes from the indie scene, it's good to see that it hasn't forgotten the independent web sites and record stores. The band's label, Merge Records, reports of "midnight sales, listening parties & special giveaways" happening in a number of independent record stores.
Overall, the online promotion of Arcade Fire's new album is comprehensive. Both Facebook and Twitter are well used for promotional purposes, although the band members don't appear to be active on these social media sites. And the band is pushing into new social media services – it has a new YouTube channel and Vimeo too.
Oh, and the new album rocks!