Last month, social photo-sharing site Flickrfinally added some long-awaited Facebook integration to its service, allowing users to simultaneously post photos on both Flickr and Facebook with one upload. But there was a small problem with the way that the new feature was set up: it basically spammed your Facebook Wall with post after post about your new photos.

Today, that problem has been fixed, reports Flickr.
For those users who uploaded more than one photo at a time (and that's most of us!), using the new Facebook integration feature made each and every new Flickr photo uploaded its own individual post on your Facebook Wall and friends' News Feed. After processing a big set of photos, your Facebook page would end up covered in nothing but Flickr posts.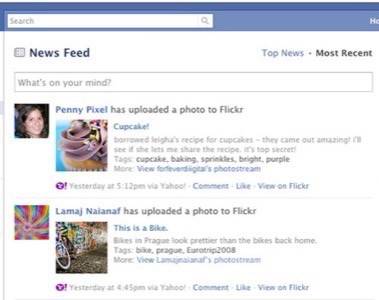 That issue has been fixed so that it now identities these multi-picture posts as batches.
Over on the Flickr blog, Consumer Marketing Manager Larissa Zimberoff writes, "When we first launched we sent updates for every upload but have recently made a change so that we only send an update for each batch of uploads."
It's a line to make any Flickr and Facebook user rejoice. Other Reminders: Getagging and Twitter Integration
Zimberoff also took the time to highlight a couple of other Flickr features which users may not be aware of, including geotagging and Twitter integration. Users can geotag their photos (add location information to them) by using Flickr's Organizr – just drag and drop the photos on the map where they were taken. Note that some smartphones automatically geotag photos for you, without any additional configuration.
Twitter integration can be achieved via an app called Flickr2Twitter, which tweets the subject line of your photo along with a link.
How to Turn it (Back) On
But really, today's blog post could read "We fixed the Facebook integration," and that would have been enough for us.
To turn this feature back on, head over here and then click "Sharing and Extending" (far right). Then click the "edit" button next to Facebook to switch activity updates back on. Or if you've never added Facebook integration to begin with, click the "Connect" button to get started.