Microsoft announced at its Worldwide Partners Conference today that it will launch a CRM SaaS service and an app marketplace as parts of CRM 2011, itself a part of Microsoft Dynamics. CRM 2011, formerly codenamed CRM5, will be available for beta testing in September, starting with the online CRM service and Dynamics Marketplace. The announcement comes as Microsoft is embroiled in a patent battle with CRM competitor Salesforce.com, which has been offering a CRM SaaS and app marketplace for years.

Microsoft says CRM 2011 will offer deeper integration with Microsoft Office and SharePoint, more visualization and dashboard tools, and a more connected, social experience.
Tight integration with other Microsoft products will be a key advantage for CRM 2011 over tools from competitors such as Salesforce.com, Oracle and SAP.
Dynamics Marketplace will be a searchable catalog of applications and professional services to extend the functionality of Microsoft Dynamics, similar to Salesforce.com's App Exchange.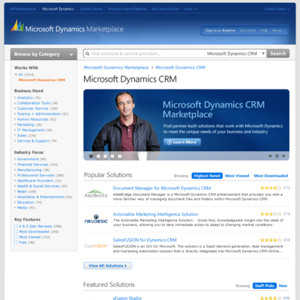 In May, Microsoft filed a lawsuit against Salesforce.com for patent infringement, leading Salesforce.com CEO Marc Benioff to call Microsoft "ally thugs" and to countersue Microsoft for infringing some of its own patents.
Last year, Gartner reported that SAP was the market leader in CRM in 2008, followed by Oracle in second and Salesforce.com in third. Microsoft was fourth.