Google has announced the pending availability of App Inventor, a visual development software for the Android platform. Depending on your perspective, Android is the most or second most exciting mobile operating system on the market – and an easy and popular platform for everyday people to make apps is big, big news.

What does it mean? Where will this go? There are five specific questions we'd like to ask about this potential game changer.
Is This The Next Quark, Blogger or HyperCard?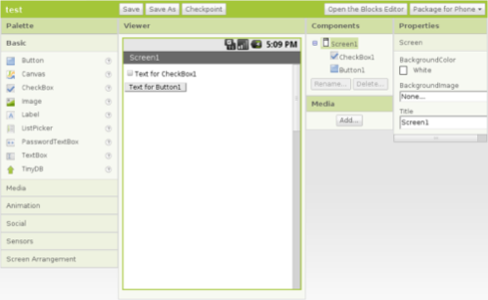 App Inventor appears intended to unleash an army of everyday people developing Android apps. "Will Google's App Inventor do for development what Quark did for publishing & Blogger for the web?" Google-watching journalist Jeff Jarvis asked this morning on Twitter, continuing, "I think it could." Apple pundit John Gruber invokes another archetypal piece of software and asks: "So has Google beaten Apple in the race for a HyperCard for mobile, or is this something less?"
Those are very big shoes for new software to fill. What would that mean? It would mean anyone could learn how to develop new Android apps in a weekend, and every organization would likely have one person in it who was just geeky enough to whip out Android apps when asked. Be it for internal or external use, in this vision of the future almost every small business would have an Android app, because the cost and barrier to entry would be lowered to nearly nothing.
Might such apps ever run on Apple devices? Apple has not been supportive of platforms that greatly simplify the development process. They do exist, though. If Apple is really going to make FaceTime an open technical standard, perhaps the Java Open Blocks library that App Inventor uses could be built out to shoot apps over into iOS. That might be as likely as iOS support for Flash.
Will App Inventor Really Be for Personal Hacking?
In most of the coverage of App Inventor's unveiling, there's been an assumption that these easy-made apps are going to flood the Android app store. What about personal life hacks, though? The examples of projects built by early testers that were described in the New York Times article about App Inventor ranged from very personal to generally useful: A short-term location SMS messager for groups, an app that responds to received SMS messages when driving with an explanation that the recipient is driving, and an app that detects falls in old folks' homes and calls designated care-takers.
Those are cool. If it takes just a few minutes to whip up a little bit of automated mobile functionality, I can probably think of a few Sunday afternoon projects right now off the top of my head. Enlargement of the hobbyist hacker market might be biggest impact of App Inventor.
Imagine this kind of functionality brought to the developing world – especially if App Inventor could be given a mobile interface on low-cost phones.
There are a whole lot of possibilities beyond the low-hanging fruit of hundreds of farting Justin Beiber apps in the Android Market.
When Do We Get to See AppRank?
There will be many, many more apps coming to the Android Market thanks to App Inventor. As MG Seigler said well in TechCrunch coverage last night, just as DreamWeaver filled the web with pages good and bad, leaving it to Google to bring sanity to it all with PageRank, so too will the mobile apps of the world need a quality and relevance algorithm.
Google made an initial entry into the world of App Search last month, but its mobile web search for apps was disappointing at launch. In our coverage of that launch, we cited research predicting a rise in global mobile app downloads from 7 billion in 2009 (37% of which was in Asia) to 50 billion by 2012. That's huge growth, but DIY tools like App Inventor might throw that curve off still.
There are apps. They must be searched.
What Does This Look Like Beyond Phones?
"While most of the attention surrounding Android is focused on mobile — more specifically, Android vs. the iPhone operating system," leading mobile industry blogger Om Malik recently wrote, "the flurry of activity from those in the chip space is a clear indication that Android is attractive not just to phone makers but also to hardware vendors and service providers in a wide variety of industries."
Malik has predicted the Androidification of everything and cites Android's deployment in a wide variety of of "connected devices" – including TV set-top boxes, ebook readers, driving navigation systems and more.
Now think about App Inventor again. Will we see it support and be put to use in customizing all kinds of different hardware? That's an exciting prospect.
Will It Be Kept Up to Speed?
Let's face it: Excitement about any new Google product has to remain somewhat reserved in order to save ourselves from later heartbreak. Google is littered with exciting and hyped has-been products that weren't implemented well, weren't supported through ongoing development and are now just shadows of the potential they had at launch.
Given the importance of Android to Google, it seems unlikely that App Inventor will be a snow-filled ghost town by December. But as Android gets more and more capabilities, will those be supported by App Inventor?
If App Inventor grows relatively limited compared to real-live Android, that would be a shame. Let's see what this puppy can do as a long-term first-class citizen of the mobile ecosystem.
What do you think about App Inventor? Is this the next Blogger, the next HyperCard? Or is it most likely an annoyance, a promise with a short shelf-life, or otherwise less exciting than it might seem?