Yesterday we wrote about the increasing usage of Semantic Web technologies by large commercial companies like Facebook, Google and Best Buy. The Semantic Web is a Web of added meaning, which ultimately enables smarter and more personalized web apps to be built. In this post we explore how a leading U.S. retailer, Best Buy, is using a Semantic Web markup language called RDFa to add semantics to its webpages.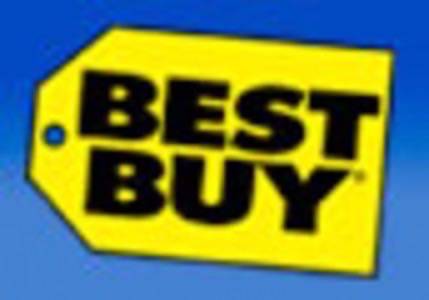 This is not just an academic exercise for Best Buy. As we will see, semantic technology has already led to increased traffic and better service to its customers. We spoke to Jay Myers, Lead Web Development Engineer at BestBuy.com, to find out how.
ReadWriteWeb's Guide to The Semantic Web:
Myers told us that the primary goal of using semantic technologies was to increase the visibility of its products and services. And with data such as store name,
address,
store hours and
GEO data being marked up using RDFa, search engines are now able to identify each of those data components more easily and put them into context.
A quick refresher on the terminology: just as the lingua franca of the Web is HTML (Hypertext Markup Language), RDF (Resource Description Framework) is commonly thought of as the primary language of the Semantic Web. RDFa is a kind of 'lite' version of RDF, which adds metadata to HTML (or XHTML) webpages.
The process of adding RDFa to Best Buy's webpages began two years ago, when the company began to look for ways to get more visibility to its stores on the Web. "At that time," said Myers, "it was difficult for users to find basic store information like store location and hours."
To solve this dilemma, Best Buy gave each store its own blog.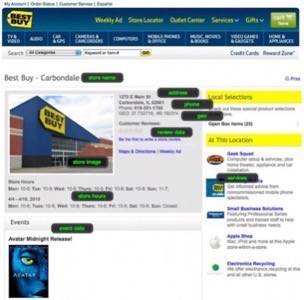 Best Buy employees entered information into the blogs every day, using online forms that output RDFa. Myers told us that the use of RDFa makes "human input from our store employees more visible on the Web."
Best Buy is using Good Relations, a Semantic Web vocabulary for e-commerce that describes product, price, and company data.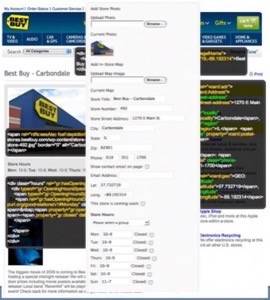 Myers remarked that "there isn't a noticeable difference" to the users of Best Buy's website, however all of the RDFa data is very visible to humans via search engine results and its store locator tool. The RDFa data is "also great for machines," said Myers, which has resulted in "a definite up tick in the amount of search traffic to these pages." At last week's SemTech conference, Myers said that it had resulted in a 30% increase in search traffic. He noted that Best Buy hadn't expected to see an SEO benefit, but it's been a boon to them since the company is "very reliant on search engines" for product discovery and store locations.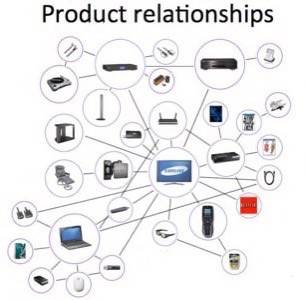 With Jay Myers at the development wheel, Best Buy's web presence will continue to be enhanced by the Semantic Web. RDFa can ultimately create rich relationships between products, which will in turn "create a deeper visibility to additional products" when a customer is shopping.
That seems like a distinct competitive advantage for Best Buy.