When asked if he would mind his startup being described as "a Tumblr for designers and developers," Forrst founder and developer Kyle Bragger said he wasn't sure, but that he probably wouldn't mind. After all, that is precisely what his product is – a community where users can share their links, pictures and text in a micro-blog format, with a little Stack Overflow-style Q&A thrown in. This budding startup has quickly gathered a unique and loyal community of designers and developers that are sharing thousands of posts and comments each day, and today I had to chance to chat with its founder.

Built On Inspiration
Want an invitation to Forrst? Read on to learn how to get one!
Bragger, the sole founder and developer behind Forrst (pronounced "forrest"), says he was most certainly inspired by micro-blogging services like Tumblr and
. Even the site's official blog, "
" is hosted on Tumblr. The micro-blog inspiration is seen clearly in both the design and in the simplicity of the user interface of Forrst.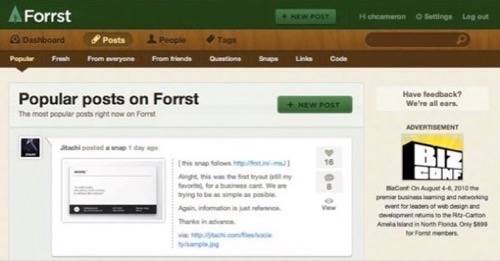 Just as Tumblr users can pick from text, pictures, videos and other media to publish, members of Forrst can choose from links, screenshots of projects, bits of code and questions. They can follow one another and view a stream of posts on their dashboard where they can "like" and comment on activity. Sound familiar? That's the point.
When he was inspired to create Forrst, Bragger was happy sharing random items of information on various social networks and blogging services, but he felt his needs as a developer were being underserved. He didn't feel that Tumblr was the right place to share bits of code and screenshots of projects in hopes of getting constructive feedback, so he created Forrst.
Other inspiration, he says, came from services offering similar solutions, but not the full range of features he included in Forrst. One such service, Dribbble, lets users share just screenshots (no larger than 400×300 pixels) for feedback on projects. Stack Overflow is a great place for developers to find questions and answers, but that's it. With Forrst, Bragger is combining these ideas, and then some, and is pleased that many Forrst users also use Dribbble or Stack Overflow as well.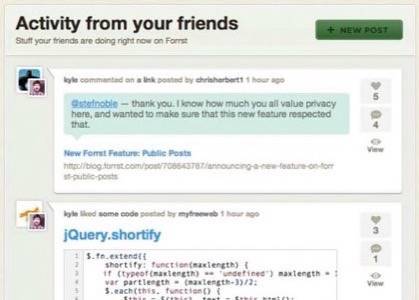 Slow and Steady Wins the Race
Since launching as a rough prototype at the end of January, the invite-only service features over 3,200 users. According to Bragger, Forrst features a strong blend of U.S. and international users, with the majority of users – around 65% – registered as designers, he estimates. So far, over 5,000 posts have been published on the site, but the majority of the site's activity – some 1,500 to 2000 items a day – comes from users liking and commenting on posts.
As for being an invite-only service, Bragger says he never plans to change this setting, opting instead for a steadily growing more close-knit community that lets users "establish rapport," as he puts it. Around 18% of the users are active each day on Forrst, and the users, he says, are kind, polite, helpful and encouraging of one another. With this very targeted audience, Forrst features highly relevant ads on its homepage – just one of several ways Bragger plans to monetize the service.
The Future: Deeper Into the Forrst
One of the ways he hopes to bring in revenue while also serving the designers and developers of Forrst is to create a service through which freelancers can find clients, and vice versa. Back in March, we mentioned another service – Pick.im – that is trying to help these two parties connect easier online. Bragger says while he is hesitant to force revenue streams on his users, he thinks including this service can simultaneously provide for the users and keep the site running into the future.
Right now, Bragger has investment and support from brothers Gary and A.J. Vaynerchuk, who are also his partners in the business. He originally met Gary in 2007 and eventually worked for his company Cork'd before leaving to run Forrst full-time.
Bragger, who began coding at age 11 with Visual Basic before eventually building his own graphing calculator applications, has been a freelancer since leaving high-school. He also previously worked in New York for the Huffington Post.
If you'd like to sign up for Forrst, you can apply for an invitation, of which a limited number are sent out daily. Or, you can beg one of the sites users for an invite, who earn invitations by actively posting and contributing to the site.
Or, you can leave a comment below requesting one of a limited number of invites provided to ReadWriteWeb. Please leave your email address and a link to some of your design or code work (or some other proof that you are a designer or developer!)