"When we were an agrarian nation, all cars were trucks," began Apple CEO Steve Jobs at last night's D8 conference, trying to come up with an apt analogy for the recent changes we're seeing in the computing landscape of the new millennium. "But as people moved more towards urban centers, people started to get into cars. I think PCs are going to be like trucks. Less people will need them."
Jobs wasn't trying to disparage Microsoft. He was actually referring to the form factor of "personal computers" – laptops and desktops alike. It's a discussion about the upcoming era of computing where everything becomes radically different, from the form factor itself to the user interface and interactions that, combined, make up what we think of as "personal computing."
iPad Leads the Way?
For what it's worth, Jobs doesn't necessarily know if the iPad will lead the way into this "post-PC era," as he calls it, but you can bet that he hopes it will. Apple PCs, more often called "Macs," were never able to overtake Windows PCs in market share. But with the transformation of personal computing from something that occurs only on boxy desktop computers and laptops to something that takes place on lightweight touchscreen tablets, Apple finally has a chance to be a market share leader for everyday computing, competing only with other tablet manufacturers and tablet OS designers. In this new group of future PC powerhouses, the only other stiff competition is from Google, whose mobile OS, Android, has already started to appear on tablet computers. Plus, Google is launching a second OS, too: the netbook and tablet-friendly Chrome OS, which will arrive earlier than expected, according to reports coming out this morning from the Computex PC show in Taipei. It's now coming this fall, instead of December, as expected earlier.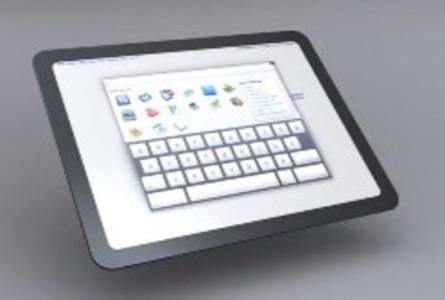 Limitations of Tablets: Not a Long-term Issue
But when questioned about the limitations of tablets by conference host Walt Mossberg of The Wall St. Journal, Jobs admitted to some of the present-day shortcomings, namely that they lack the ability to handle serious content creation.
The iPad currently suffers from limitations in its software (no ability to multitask or maintain multiple open windows) and hardware (not enough processing power to run heavy-duty applications like PhotoShop or video editing software).
These issues will work themselves out over time, says Jobs. "The software will get more powerful. I think your vision would have to be pretty short to think these can't grow into machines that can do more things, like editing video, graphic arts, productivity."
Taking the long view, it's believable that one day, tablets will be our only computers, with add-on keyboards, mice or docking stations of some sort when we need to do "real work." But how much real work do you do everyday? According to Jobs, when he goes to write a 35-page analyst report, he'll plug in his Bluetooth keyboard, but "that's 1% of the time," he says.
Do you only do "real work" 1% of the time?
Change isn't Easy
On a personal note, this vision of computing that has me, as a heavy-duty laptop user, perplexed. My day is spent with my fingers attached to a keyboard, typing, writing, Web surfing, tweeting, Facebooking, FTPing, editing photos, IMing, creating emails and more. At the moment, I have four different desktop software programs open and two different Web browsers running, each full of tabs. I have a local pictures folder open for browsing, and a drag-and-drop FTP app ready for freshly cropped photos. How will this work on a tablet? Will it be possible with the multitasking feature being introduced via the iPhone OS 4.0 update? Something even better? As eagerly as I'm anticipating that new functionality for my iPhone, that interface still feels a little dumbed down when you imagine using it for your everyday work – especially when you're used to a desktop-like computer, whether that's Mac, Windows PC or Linux.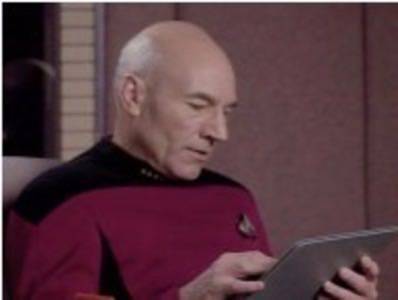 That may change one day in the distant future, but it's hard to quite grasp the vision Jobs describes. No more laptop? No more mouse? An occasionally used plug-in keyboard? Am I trading computing power for computing elegance? A workhorse for a show pony?
What do You Think?
These fears are par for the course, though – change can be difficult and sometimes even scary. A post-PC landscape "makes some people uneasy," admits Jobs. I guess he meant me, and people like me, whose laptops will have to be pried from our cold, dead hands. These are people who love our tablets… but in the living room and kitchen, not in the office.
Then again, many people were probably uneasy when they were first introduced to computers. (This will replace my ledger? My pen and paper? I don't think so!). They were wrong then; computers replaced almost everything, and with the help of the Internet, every conceivable business model had to transition itself to a digital world, too. Adapt or be crushed. Will the anti-tablet pundits be wrong now? Will everyone who thinks tablets will always be secondary devices eventually eat their words when they become everyone's only computer? Or is the vision of a tablet-filled world where today's "personal computers" collect dust one that's flawed?
Image credit: Engadget