Launched in December, news aggregator TopicFire has now turned its attention to Facebook. It has generated two dozen news pages devoted to breaking news topics, populated on Facebook. These run the gamut from Apple News to World News. (Via the latter I just found out actor Gary Coleman is in critical condition in a Utah hospital.)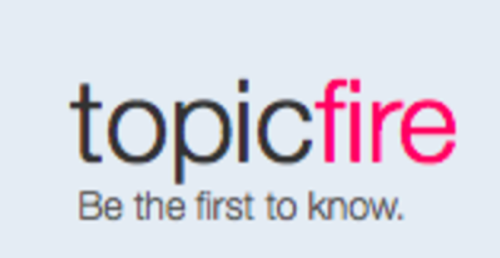 TopicFire is designed to speedily gather information around topics and locations. The site uses a proprietary algorithm called "HeatRank" to rank online content by popularity in real time. It machine-curates news on topic-specific pages, such as San Francisco news, and news for fans of country music.
"In the past few months Facebook has really been pushing their fan pages, and reading news on Facebook has been growing fast!" co-founder Ryan Sit told us via email.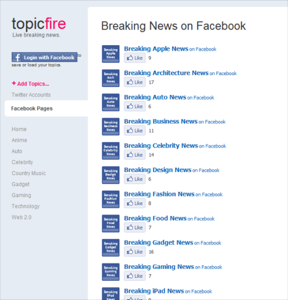 In January, TopicFire populated a host of Twitter accounts powered by the aggegator's ranked gathering of news. Examples include @brkingtech and @breakingafrica. Readers can keep current with their chosen topics or locations by following those Twitter accounts. The company's entry into Facebook aggregation follows that model. Facebook and Twitter both have become very popular platforms for news distribution, so this may be as well.
The start up, a bootstrapped affair out of San Diego, was created by Jonathan Neddenriep and Sit. Sit says they have no less a goal than becoming social media's premier news publisher. Given the presence of traditional news sources that are branching out into the Web, search engines like Google News and location-focused outfits like Fwix, EveryBlock, and Topix, Sit clearly takes issue with the notion that we live in an era of diminished expectations.
Read more ReadWriteWeb coverage of journalism topics, as well as our take on Fwix, EveryBlock and Topix.
"TopicFire allows readers to have a comprehensive view of top news on a topic, from many great news sources. For publishers, all links are direct links driving traffic back to publishers. Plus we are distributing publisher's feeds into the social web, when many publishers have not optimized for Facebook and Twitter yet. We want to become the leader in Breaking News for the rapidly growing social web, and speed is key which HeatRank enables," Sit says.