Today, about 145 million Internet users in the U.S. use social web applications. In total, all of these users generate close to 500 billion online impressions on each other. According to a new report from Forrester Research, a mere 16% of online consumers generate a grand total of 80% of these peer-to-peer online impressions. Over 60% of all of these impressions come from Facebook.

Peer Influence Rivals Traditional Media
As Forrester's Augie Ray and Josh Bernoff point out in this new report, 500 billion influence impressions about products on social networks, product ratings sites and blogs, comes close to rivaling other mass media outlets. Online ad impressions, for example, numbered around 2 trillion last year.
Facebook is the venue for 62% of all of these influence impressions, followed by MySpace (18%), Twitter (10%) and LinkedIn (6%). Ratings and reviews make up 32% of these impressions, discussion forums account for 29%, blog comments for 24% and blog posts for 16%. As Forrester's analysts rightly note, it would be easy to dismiss Twitter, given that it only accounts for 10% of all of these influence impressions. These users, however, tend to be the "connected of the connected," which makes Twitter an ideal place to engage mass influencers.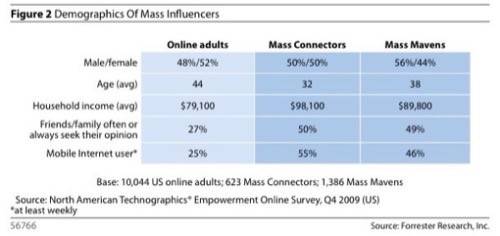 One caveat we would add here, however, is that it is hard to equate a post on Twitter or Facebook with actually impressions. Even though a user can have 1 million followers on Twitter, chances are that only a small number of these followers will actually see this message. It's also not clear how many users actually read blog comments and actively read ratings on sites like Amazon and Newegg. The study's authors acknowledge this in a footnote, but also note that they consider 500 billion impressions to be a conservative estimate.
Who Are the Influencers?
For marketers, of course, it is important to reach these 16% of mass influencers. Forrester divides these influencers into two groups: mass connectors, who maintain very large social networks, and mass mavens, who don't just maintain a large social network, but also have a strong desire to share their knowledge about a certain subject. On average, mass connectors tend to have a slightly higher household income ($98,100) than mass mavens ($89,000). These connectors are also slightly younger (32 vs. 38) and more likely to use the mobile Internet (55% vs. 46%).