I love to sit on the beach. One of the coolest things about the beach is the number of layers of visual depth. Look at the sand and it's beautiful, but zoom your eyes in closer and you'll see a whole layer of life running around on the sand that you didn't see before. Look even closer and you can see individual grains of sand, water and light dancing between them. Look closer still and you see that each grain of sand is a unique object with its own texture. If your eyes are strong enough, or you have a machine to help you, you can see even more layers by looking closer still.
That's what Twitter is going to be like with the launch of Twitter Annotations this Summer. It's a beautiful vision, with huge potential, but there's another way to look at this analogy: you don't build on the beach sand because it shifts too much. Will Annotations live up to its incredible promise?
What Annotations Are
Last week Twitter announced a forthcoming feature called Twitter Annotations: it's a system for almost any metadata to be connected to any Twitter message when it's published. Inside every Tweet is now a space where you could put or find anything, including links out to further instructions or larger bodies of information. That's always been the case with the 140 characters of content – but now we're talking about systematic metadata intended for machines, to augment the content. The idea is dripping with potential, but also some risk.
Isn't much of life's meaning found in the play between limits and the infinite?
Twitter has been considering adding Annotations for at least two years, according to Platform Team member Raffi Krikorian. That's a relatively large portion of the company's young life. Every time a new bit of metadata was added to Tweets, like geolocation information was last Fall, the company would ask itself "should we be doing this, or should we just open up the platform for and and all metadata?"
Now the company has decided to do just that. Twitter publishing tools can now add a description to any tweet their users publish, not as a part of the 140 character message, but as a small machine-readable metadata field that travels along with the content.
What might this look like? We could see Annotations fields like: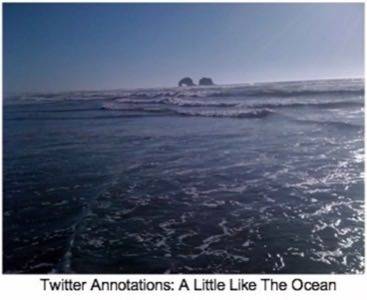 Link to a media file, like podcast enclosures, photos linked to, etc.




Context about the Tweet like where was the author when it was published, maybe what the weather was like there at the time.




Your Twitter publishing interface could offer you a special option to write reviews of movies, books, or links you're sharing. The ISBN of the book, a link to a preview of the movie and the number of stars in your rating could be included in the Tweet Annotations.




Any way you can classify, describe, append or otherwise enrich a Tweet with words or numbers can be included in Annotations.
You Tweet, you (or more likely your Twitter app) attach a characteristic or quality, you define the characteristic and then you provide a value of how or what that Tweet did relative to the quality being referenced. Twitter clients like Seesmic, Tweetdeck and more will make it easy for users to add these annotations. Yes, this is meaningful in large part because of the 140 character limit on Twitter messages themselves, but isn't much of life's meaning found in the play between limits and the infinite?
From Annotations Come Analysis
Annotating a single Tweet is uninteresting, it's when you hit the Twitter databases and gather together all the Tweets that share a characteristic that things get exciting. When those selected Tweets can then be cross-referenced with other sets of data from outside Twitter – that's when the word fecund starts feeling inadequate.
Show me all the Tweets from my friends that have links to music and play me those songs. Twitter clients like Seesmic, Tweetdeck and others are going to make viewing that kind of data a whole lot easier.
Tweetmeme's Nick Halstead believes that Annotations will be used most extensively to communicate webhooks, links to instructions for a Twitter client to follow. He thinks it will enable game play and help Twitter start acquiring more users again.

"Because of the size of the data you can put in the annotations, I think people will come up with links to offsite resources. Seesmic is building their own platform for Windows to support plug-ins, but this reaches much further, but this lets Twitter clients augment a tweet with other services. Sf you were Stocktweets, you could attach a link in the namespace that's in stocktweets, Seesmic could follow that link back to Stocktweets and ask it how to render it. So you could put a chart and any other associated information. It's like FBML [Facebook Markup Language], the ability to embed applications inside the Twitter clients. Maybe threaded conversations. A game of Scrabble where the link points at a currently rendered scrabble board, so other people could look at the board and join in playing it. Annotations and webhooks would allow gaming to start happening on Twitter."
Halstead believes an Alpha version of Annotations could be made available to developers in a month.
How about showing me all the Tweets from anyone that are referencing the President of the United States (subject: POTUS?), analyze the sentiment in the messages, show me where those Twitter users were located and tell me how those local sentiments change over time. Send me an alert when one of those starts to shift radically.
Show me all the Tweets by people in their 20's and in their 50's (imagine an author age tag in Annotations, why not?), living near the site of a disastrous event. How do those discussions differ?
There are all kinds of interesting questions that could be tackled when the developer world's imagination runs wild on the terms of description applied to our messages.
Of course it will be tempting to draw all kinds of conclusions from this rich data. We'll surely be able to draw a whole lot of value from it. "You can learn something from almost anything," Big Data cruncher and 80Legs CEO Shion Deysarkar says. "Just give me enough data, I'll figure out something."
But let's keep in mind the words of social network scientist danah boyd, who wrote the following on her blog this morning:

Time and time again, I see computational scientists mistake behavioral traces for cultural logic…Big Data creates tremendous opportunities for those who know how to assess the context of the data and ask the right questions into it. But mucking with Big Data alone is not research. And seeing patterns in Big Data is not the same as hypothesis testing. Patterns invite more questions than they answer.
Tweet Power Politics
Twitter's Krikorian says the site will probably list "trending annotations" just like it lists trending topics today. There will probably be a wiki where anyone can find out what namespaces are being used for what purposes.
Really though, the classification system is going to be determined by the market. That's something that worries a lot of people. "People who believe in building standards are conerned about our blase attitude about how we want to run annotations," Krikorian says. He believes that the developer community will work things out for itself, just as it has in the past. "There has been a lot of emergent behavior around how to relate to tweets anyway, without our imposing much structure around it. The Twitter platform is continuously evolving – the developers will figure it out. Twitter developers iterate in public."
That's likely to be cold comfort for people focused on the power of structured data standards. Many people are calling for Twitter to embrace the well-built efforts of the Semantic Web community. Krikorian says that 90% of Twitter developers don't know what the Semantic Web is but that there's certainly room for standards lovers to work within the Annotations scheme.
It's not just about standards, either. "We need serious consideration from folks who know their stuff before we create a convention," says Teresa Boze, who suggested the American Society of Indexers in particular. It's hard to think that creating a giant living library without consulting some librarians is a good idea.
The absence of standard terminology could really be a problem. Annotations can't be changed retroactively, either. Krikorian says that major players will dominate the obvious use cases for Annotations and the company will monitor and highlight really innovative Annotations developed by people on the margins.
We'll see how well that will work.
Imagination will make the sky the limit for this publishing platform used easily by more than 100 million people around the world. But a shortage of forethought, planning and agreed-upon standards may bring that platform's aspirations back down to earth quickly in the future. Time will tell.