Today at the Politics Online Conference, Microsoft unveiled a new crowdsourcing system hosted on Microsoft Azure, Microsoft Town Hall.

TownHall is advertised as "software that allows you to easily create a destination for folks to voice opinions, identify problems, offer solutions and come together around common interests and concerns."
TownHall focuses on "rich engagement" in the political sphere, aimed at candidates and politicians as well as political interest groups. It allows for the creation of a social media-rich site that runs across platforms and provides methods for gathering information as well as expressing opinions, by furnishing architecture where visitors can make queries, vote on issues, posit and respond, and create community conversation.
TownHall is currently available only for the PC. In the coming months, Microsoft intends to provide TownHall clients for the iPhone, the iPad, Google Android and Windows Phone 7.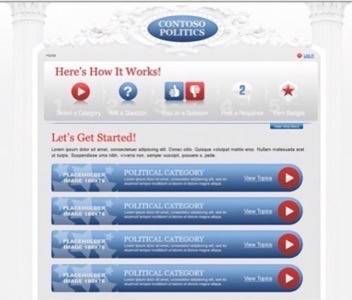 The software for TownHall can be downloaded free of charge. Users pay to host their site on Windows Azure, Microsoft's cloud computing program.
TownHall is just a part of a new Microsoft Initiative called Campaign Ready.
The power of social media – the electronic version of listening to what the voters say – started with Howard Dean's abortive bid for the White House in 2004 and came to full fruition with Barack Obama's successful one. Subsequent to his election, Obama has shepherded through a series of open government initiatives, which require federal government agencies to seek transparent avenues toward public engagement.
Microsoft has posted more Town Hall screenshots on Flickr.