Google just launched a new Google Labs product for Google Reader: Google Reader Play. Reader Play is a new, highly visual way to browse your Google Reader subscriptions that is somewhat reminiscent of Google's Fast Flip. It replaces the busy Google Reader interface with an interface that focuses on a single story. Whenever a post includes videos or images, Play with highlight these and give you the option to read more of the text as well. This new interface allows you to browse through the feeds you already subscribe to, but Google Reader Play also emphasizes Google Reader's ability to recommend items from around the web for you based on your preferences.

Big on Recommendations
As Google notes, Play will learn from your preferences, based on the articles you read and "like." You can also choose from a set of categories (tech, entertainment, arts, business, etc.) and Google Reader will create a personalized stream of items just for you. According to Google, Play uses the same algorithm as the Recommended Items feed in Google Reader.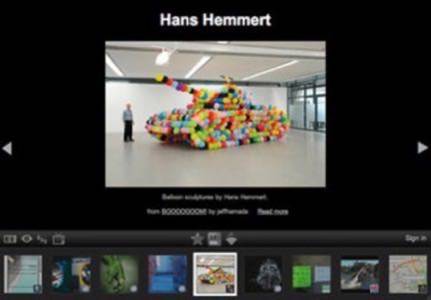 Play will even work if you don't have a Google account. While you can't star, like or share items, you can still browse interesting posts based on the categories you choose. This should make it a good tool for those users who don't want to go through the effort of setting up a feed reader and subscribing to hundreds of different feeds.
Get Started
To use Google Reader Play, just head over here or look for "View in Reader Play" in the folder settings in Google Reader. You can switch stories by using your arrow keys or choose the slideshow mode that will automatically forward to the next story after a few second.