Cambridge UK startup Rapportive has released a Firefox and Chrome extension that will replace the ads in your Gmail with photos, biographic data and social media links, including a live display of recent Tweets, for whoever you're corresponding with by email. It's fantastic and takes about 2 minutes to set up.

The three person team behind Rapportive queries data provider Rapleaf for the social media profile data and does some local caching for performance optimization. Let's stop talking about it though – just go download it! Check out the screenshot and details below.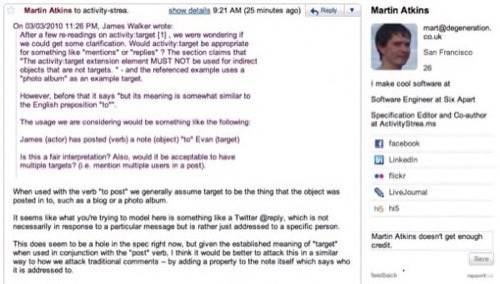 Trusting the Service
You don't need to give Rapportive your Gmail credentials, the service asks you to login via secure Google Federated Login, or OpenID. The startup doesn't have access to your password, but it does access the contents of your email – that's how it builds a service for you to use. Any browser extension has access to everything you do on the web, but I expect some people will feel a little nervous about installing a webmail related extension from a small company. I don't think that concern is warranted enough to justify missing out on this awesome service.
The company says that if your details are inaccurate you can visit Rapleaf and correct them.
Inbox as Platform
Rapportive is developing a platform for the development of custom applets that other companies can integrate within their local data stores so you can look up an email sender on your own system as part of the Rapportive display. Co-founder Rahul Vohra says such integration takes minutes to set up and in the long term the company hopes to create a marketplace for those applets. Team collaboration so notes left on contacts can be shared is also in the works, as is integration with popular paid CRM and customer service systems.
Rapportive was first reported on by The Next Web this morning.
I've been hoping to find something like this for a long time.