Siri is one of the most ambitious mobile services we have seen in the last few years. Imagine if you could just talk to you phone and tell it to call you a taxi, reserve a table at your favorite restaurant or tell you what the weather in New York City will be like tomorrow. If you have an iPhone, you will be able to start doing that tonight. Siri, a virtual personal assistant, will recognize your voice query and either give you the answer to your question or connect you to the right web service.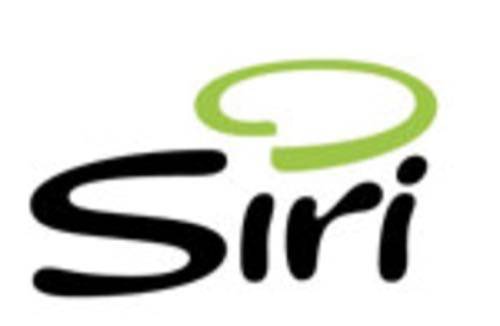 When we first encountered Siri 2 years ago, it was an extremely stealthy startup and the company only started to release more information about the product in the middle of last year. Siri was spun out of SRI International and its core technology is based on the ambitious CALO artificial intelligence project. CALO stands for "Cognitive Assistant that Learns and Organizes" – and that's exactly what Siri does.
Using Siri
The app transcribes spoken text and then takes these commands and routes them to the right web services. If you try to book a table at a Thai restaurant ("get me a table at a good Thai restaurant nearby"), for example, Siri will check where you are, query Yelp for reviews of nearby Thai restaurants, show you the options and then pre-populate a reservation form on OpenTable with your information. All you have to do is to confirm Siri's selection.
Works Best on an iPhone 3GS
We should note that Siri recommends using the app on an iPhone 3GS, as the app is a bit sluggish on older versions of the iPhone. You can still install it on any iPhone, but your experience might not be quite as good as on a 3GS.
When we talked to the company last month, Siri's CEO Dag Kittlaus described Siri as "the mother of all mashups." To make this personal assistant work for enough of the most likely queries that people will enter, Siri needed to make sure that it connects directly to as many web services as possible. The company, for example, pulls concert data from StubHub, movie times from MovieTickets, movie reviews from Rotten Tomatoes, restaurant data from Yelp and you can order a taxi through TaxiMagic. In total, Siri current has partnered with 16 different companies and expects to expand this number continuously over the next few months. Siri will also plans to offer an API for developers.
Siri's mobile app will be free. The company's business model relies on getting affiliate and referral fees from these partners whenever somebody buys something through the service. This also explains why Siri is currently only available in the U.S., though given that adapting the speech recognition and semantic analysis to other languages will take a while, we don't expect to see Siri in other languages anytime soon.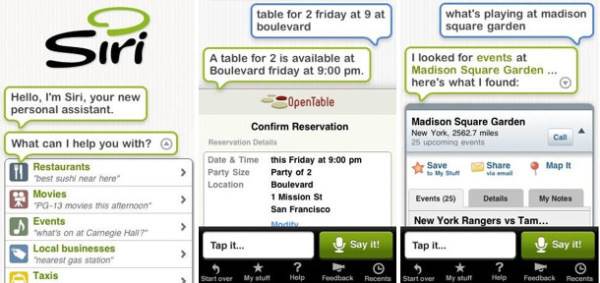 Our own tests of Siri have been limited so far, but the software is surprisingly good at translating voice queries into text. As the Siri team told us last month, the application works so well because it is able to recognize the context of your queries. This kind of semantic analysis is a very computing intensive problem, so most of the actual number crunching happens on Siri's servers. Siri outsources the voice recognition to Nuance and if you are not comfortable with speaking into your phone, you can always use a regular text query as well.
Obviously, Siri won't be able to answer every query – and sadly the app doesn't use Wolfram Alpha to give you answers to factual questions (yet). Should that happen, Siri will just route your query to a search engine and display the search results. As the Siri team told us, however, users tend to learn which queries work best pretty quickly (just like we learned how to structure effective queries for Google).
If you want to give Siri a try, just head over to the App Store. Just remember to come back and tell us how well (or not) it worked for you.