Recently I wrote about the decline of RSS Readers as a way for people to keep up with news. I noted that while many people still use RSS Readers, usage has decreased due to the emergence of real-time and social flows of information via Twitter, Facebook and other such services. The post sparked a fascinating discussion, with over 160 comments.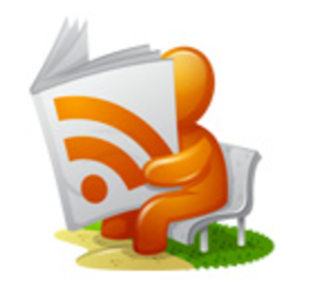 What I learned from that discussion is that while the RSS Reader market is indeed in decline, there are still a number of compelling use cases for RSS Readers. Not to mention new tools worth checking out. So in this more optimistic post, I list 5 reasons why you should continue to use RSS Readers.
My conclusions in the previous post still stand: 1) Google now dominates what's left of the RSS Reader market; and 2) RSS reading is a very fragmented experience circa 2009/2010 due to Twitter, Facebook, start pages like Netvibes, Firefox bookmarks, and more. However, a lot of commenters wrote that they still use RSS Readers each and every day. Here are the main reasons why:
1. Control over Information Flow
RSS Readers allow users to control their flow of information, whereas it's impossible to keep up with the Twitter firehose of real-time information. Mathew Ballad (comment 11) put it well:
"I tend to check Google Reader multiple times a day. While I do keep up with bigger news through Friendfeed or Twitter, I like to keep up with multiple Graphic Design blogs, tech blogs, entertainment blogs, photography blogs and Apple blogs on my own. I just can't see myself ditching RSS Readers for something that I really don't have much control over."
It's not just about controlling your stream of daily news. Many people have feeds that they just don't want to miss. Tim Bray has a folder of feeds in NetNewsWire that he feels is "unacceptable when I don't at least glance at everything those people have to say."
Some people would argue that it's a thankless task trying to control your RSS Reader. I am one of those people and I long ago gave up trying to keep my 'unread' count at zero. Indeed nowadays I don't even try to mark as 'read' my email – using Gmail, I just let it all flow in and mark the ones I should reply to with stars.
On a similar point, RSS pioneer Dave Winer remarked (comment 80) that Google Reader "has the wrong view of RSS." In a follow-up post, he wrote that "fundamentally, Google Reader views RSS as email," by which I think he means users feel compelled to read everything in it. His view is that "reading every story is a meaningless concept" and that RSS Readers need to find a way around this issue.
2. Evolving User Interfaces
Some readers are expecting RSS Readers to transform their UIs in 2010, in particular for "processing life and news streams in the same interface." (Marco A Torres)
This has already happened to a degree in Google Reader, which has many nice social sharing features. @businessquests (comment 57) called Google Reader "a monitoring and intelligence tool enabled by tagging and publication of tag-based RSS feeds."
Eric (comment 19) agreed, commenting:
"I use it [Google Reader] not only as a constantly evolving newspaper, but to share and to create new snippets using the "Note in Reader…" bookmarklet. I also subscribe to others' interests and see what they have marked to share with me."
Eric also noted that he gets breaking news in Google Reader, thanks to its support of the real-time standard PubSubHubbub.
However a number of people complained that Google Reader isn't evolving fast enough in terms of user experience. I would put myself in that camp too. So, like me, you may want to check out some new feed reading innovations. Feedly (one of our Top 10 Semantic Web Products of 2009), Fever (one of our Top 10 RSS & Syndication Technologies of 2009) and my6sense (an iPhone app – our review) are 3 apps that received multiple mentions from our readers.
We use Fever internally at ReadWriteWeb and I just today downloaded my6sense onto my iPhone. As an aside, note that two of those apps (Feedly and my6sense) integrate Twitter as well as RSS feeds.
3. Tracking Twitter
It's not necessarily an either/or situation between RSS Readers and Twitter. Lynne Pope from New Zealand pointed out (comment 44) that she uses Google Reader to track some Twitter accounts:
"Time zone differences mean a lot of good information can be missed in a tweet stream. Pulling the important streams into a reader means the information is readily available."
4. Mobile News
A number of people remarked that they commonly read their feeds via a mobile version of an RSS Reader. Something for those of us who are sick of being tied to PCs to do more of, perhaps. Bill (comment 46) wrote:
"I use NewsRob on Android to pull the most recent 250 articles from Google Reader via my home wifi. Then I walk out the door and head for the commuter train, where I will read my feeds while other poor souls are stuck with the newspaper. Same on the way home and late at night when I'm rocking the baby to sleep."
5. Categorized News
Perhaps some of us are finding RSS Readers difficult to use nowadays because we don't use them efficiently. If you spend some initial time setting up your Reader and categorizing your feeds, then chances are you will get a lot more out of it. Randy Orrison (comment 78) described a good use case that you may want to emulate:
"I have folders in Google Reader for the blogs that I check every day, new release feeds for software I use (I could never remember to check all 20+ websites regularly), and down at the bottom of the folder list feeds from busy aggregators (like TechMeme) and news sites (like the BBC)."
Conclusion
Reading through all 160+ comments on my post restored some of my faith in RSS Readers. Viva la read/write Web! I'm going to test out some of the tools people suggested, find new ways to integrate Twitter streams with my RSS feeds, read more on my iPhone using my6sense and other services, and do some re-ordering in my Google Reader.
What are your thoughts now about RSS Readers, given the discussion summarized here?